New year's resolutions for your home
Heritage, Maintenance, Materials | Written by: Anne Schmidt | Thursday 13 January 2022
Have you made your New Year's resolutions? We've put together some resolutions for you to help your home through the next year.
Get to know your home
Wherever you live, it's important to get to know your home and the materials it's built from. And this can be a very interesting subject to look into! For example, bricks are the building blocks of many of our homes, but did you know that they were first brought into Scotland by the Romans? Our blog on Scotland's historic brick buildings explores this fascinating material.
Are you one of the lucky few who lives in a traditional thatched house? These buildings were once found all across the country, but today there are under 300 of them left.
In Scotland, thatch was made out of many different materials, including heather, bracken, marram grass and more. They are known as 'vernacular' buildings, which means they were built with local materials in the local style.
Learn more about this fascinating roofing material in our Inform Guide: Thatched Roofs and see thatch in action in our video with the Highland Folk Museum of how to thatch with heather.
Explore the decorative details
You might also have traditional features inside your home. Decorative glasswork can often be found in doorways as well as windows. Perhaps you have stained, etched, blown or crown glass at home?
Or maybe you have some decorative plasterwork on your ceilings and walls? These details can be very intricate: a testament to the crafts people who made them.
You may even have uncovered ceramic flooring in your hallway (especially if you have a Victorian house). These tiles are usually laid out in geometric and multicoloured designs.
If you've been lucky enough to find any of these features inside your historic home, have a look at one of our Inform Guides to learn more about your home.
We'd also love to see them! Feel free to share a snap with us on Twitter and Facebook @HESEngineShed.
Live a greener life
Once you've got to know your building, there are many ways you can make your home more sustainable. One easy change to make is to consider the materials that you are using in your home.
Using naturally derived, high quality and repairable materials can make a real difference for a greener lifestyle. Have a look at our blog about sustainable homes for more easy improvements you can make to be greener at home.
Can you also make your home more energy efficient? There are many ways to do this, some of which are as simple as hanging up thick curtains or eliminating drafts around doors. Switching to LED lights is also a good and easy way to save energy.
Making sure your home is more energy efficient doesn't only use less energy and carbon, it keeps your home warmer and saves you some money. Read our Guide to Energy Retrofit, or explore our building advice and our blogs on the energy efficiency.
Give your building some TLC
Traditional buildings were designed to last for centuries, but every home needs a bit of TLC. Whether you live in a tenement, a brick cottage or a stone mansion, there are a number of things you need to do on a regular basis to show your traditional home the love it deserves.
This includes checking for any damage and corrosion, and ensuring that water cannot enter the building and can run off effectively. Learn what you need to do in winter with our winter maintenance blog, or focus specifically on tenement maintenance with our recent Inform Guide on Tenement Maintenance.
Our Short Guide: Maintaining your Home takes an in-depth look at home maintenance.
If you prefer to hear direct from the experts, watch our Inform Friday livestreams, where we talk about different building maintenance topics and answer questions from the audience.
Past sessions are available on our YouTube Inform Friday playlist.
Learn your ABCs
Do you know how to tell your harling from your limewash? Your corrugated from your cast iron?
Historic buildings and structures are full of incredible details that speak to the skills of the crafts people who built them. But with millennia of building, construction, and design behind us, it's easy to get a bit lost in the details. Follow our #BuildingsAtoZ on Twitter and get to grips with a host of historic building features and structures.
And a little something for you…
Don't forget to also take care of yourself. After a long day looking after your home and learning about historic buildings, we would thoroughly recommend a walk around local historic buildings. Get inspired by our blog exploring the tenements of Edinburgh.
Because one fifth of Scotland's buildings are historic, you're sure to find some on your local high street or town centre. Can you recognise some features from the #BuildingsAtoZ?
Also remember that a lot of heritage sites are open to visit, particularly those with gardens or landscapes that can be enjoyed safely. Learn how enjoying local heritage can be a more sustainable option in our video about sustainable tourism.
Keep up-to-date throughout the year
Stay up-to-date throughout the year by signing up to our email newsletter. Get building advice, the latest research and stories from Scotland's built heritage straight to your inbox.
About the author: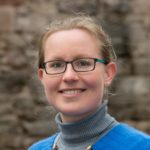 Anne Schmidt
Anne Schmidt is a Content Officer, working at the Engine Shed. Her background is building conservation and she enjoys telling people about different traditional building materials, particularly lime and sustainable refurbishment.
View all posts by Anne Schmidt