Tour the quarries and fields that built Scotland, and could help us reach a low carbon future
Materials | Written by: Guest | Tuesday 2 November 2021
From towering abbeys to city tenements, many of the historic buildings we know and love in Scotland were made with materials from close to home.
Stone and slate came from local quarries, thatch from nearby fields and the earth beneath our feet created homes and other structures.
Though local materials aren't used as often today, Scotland still has a rich resource of high-quality and natural materials right on our doorstep. In fact, these materials could be crucial to helping us achieve net zero carbon emissions, as emissions from construction materials and processes make up as much as around 6% of the UK's carbon annual footprint (UK Green Building Council, 2020).
Join us on a virtual tour to find out more about these materials, where they come from, what they have been used for, and some of the ways they can help us start to build a sustainable low carbon and resilient future today.
Earth
Earth has been used as a building material for centuries across the world, as well as right here in Scotland. We have plenty of it! A naturally breathable and insulating material, earth has many qualities that can support sustainable building today.
Reed and Straw
Reed and straw have a long history in Scotland as building materials, mainly used for thatching roofs. These materials are often by-products from farming or landscape management.
As a grown material they have the potential to store carbon and provide habitats for local wildlife.
Today, these materials can be used for repairs to thatch buildings as well as having other uses for new construction.
Heather
Traditionally used for thatching, heather (or ling) has been used in Scotland for generations.
It is another material that can be locally sourced and is found in abundance in Scotland.
As a grown material, it has a low carbon footprint and it's harvesting and sustainable management can also help us to promote Scottish biodiversity.
Timber
Huge ancient forests that used to cover Scotland meant that timber became a popular building material.
Today, it is still widely used in the construction industry. Sustainably managed timber is low carbon, low waste and light-weight.
Innovations in strengthening Scottish timber through techniques such as dowel laminating (stacking lumber, cross laminating and fitting with dowels) can help us to make the most of this versatile local material.
Slate
Slate was once one of the most widely used building materials in Scotland and covers many of the roofs of our traditional buildings.
It is a high quality and durable material. When well maintained, slate roofs can last for hundreds of years.
Today, we have no active slate quarries in Scotland. However, reviving their supply will help us to prolong the life of our existing buildings as well as provide a local natural material that can be used for new construction.
Stone
Scotland's diverse geology is reflected in the historic buildings and structures all around us, highlighting how versatile and durable our local resources can be.
Today, the construction industry imports most of their stone from overseas, yet our plentiful local reserves can help us to significantly reduce the carbon footprint of stone used in Scottish construction.
View them in Virtual Reality
If you have a virtual reality headset, use it to watch our immersive video – a relaxing journey through the quarries and fields that built Scotland.
Building materials for a low carbon future
Finding ways to reduce and eliminate carbon emissions from the materials we use for repair, retrofit and new constriction is crucial to help us achieve net zero carbon emissions.
Innovation is central to creating solutions to the climate crisis. Yet Scotland can learn so much from the sustainable materials and practices from our past.
Using traditional knowledge and linking it with innovative low carbon skills can help us transition towards a low carbon and resilient future.
Find out more about Scotland's traditional building materials and read our publications including case studies of materials in use.
About the authors
Erin Fowler is a Carbon and Circular Economy Trainee at Historic Environment Scotland. Katie Carter is Historic Environment Scotland's Circular Economy Project Officer.
About the author: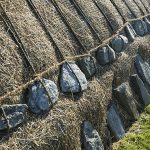 Guest
From time to time we have guest posts from partners, visitors and friends of the Engine Shed.
View all posts by Guest