Scotland's beautiful brick buildings
Architecture, Materials | Written by: Moses Jenkins | Friday 15 October 2021
When you picture Scotland's traditional buildings you may think of materials like sandstone, granite and cast iron. But did you know that Scotland's towns and cities have many buildings constructed of fired clay bricks?
In many cases these buildings combine decorative embellishments with skillful construction to create structures of considerable beauty.
Read on as our resident brick expert and author of Scotland's Tall Chimneys, Moses Jenkins, takes you on a journey through Scotland's brick history and showcases some of the country's most impressive brick buildings.
Exploring the 17th and 18th century in Scottish brick
The story of brick in Scotland begins with a brief period of use by the Romans in the first century AD. The material then largely fell out of use until the 17th century.
The use of fired clay brick began in earnest in Scotland in the 18th century. Several buildings can be seen today from this period.
A particularly good example of 18th century Scottish brickwork is Fort George, one of the most outstanding fortifications in Europe.
Its brickwork is of exceptional quality. The vaulting which can be seen at various parts of the building is one of the most complex features to construct of brick, requiring great skill in cutting and laying bricks.
If you look closely at some sections of brickwork, you can still see the special lined finish which was applied to the mortar joints between bricks, as well as seeing where the bricks were skillfully cut using a tool called a brick-axe.
Dressed to impress: 19th century decorative brickwork
19th century buildings see brick used to its most impressive and stunning effect. Templeton's Carpet Factory in Glasgow is probably the finest example of decorative brickwork in Scotland. It may surprise you to know that it was modelled on the Doge's Palace in Venice. It uses glazed bricks to form the pattern of a woven carpet, an apt motif given the output of the factory!
Many smaller structures from Scotland's industrial past used brick as their principal construction material including the ornate Kinning Park Colour Works, Glasgow. These buildings often used what is termed polychromatic brickwork; bricks of contrasting colours used to form patterns.
Glazed brick and probably the fanciest Victorian toilets in Scotland
The use of glazed bricks to create decorative patterns can be seen in many late 19th century buildings across Scotland. A particularly good example of this is the Victorian toilets in Rothesay, with other examples including 11-13 Crichton Street, Dundee.
Scotland had a well-developed glazed brick manufacturing industry in the late 19th century, with a particular focus of this being in Ayrshire.
Bullnose, chamfered and Scotland's 'special' bricks
The use of special shaped bricks, often referred to simply as 'specials', is another decorative embellishment found in Scottish brickwork.
From the mid-19th century, brickworks across Scotland manufactured an incredible range of special shaped bricks with names such as 'bullnose', 'chamfered', and 'moulded convex'.
These bricks can be seen in buildings throughout the country, used to impressive decorative effect. For example, Hayford Mills, Cambusbarron, which also uses polychromatic brickwork.
Towering chimneys: Scotland's functional and decorative brick buildings
Even the most functional brick buildings are often found to be significantly decorative in appearance. The finest example of this is Cox's Stack, an industrial tall chimney in Dundee, which uses brickwork in various decorative ways.
The chimney, which is is one of the remaining relics of Dundee's once buoyant jute industry, perfectly captures both the functional and the decorative nature of Scottish brickwork.
Scotland's tall chimneys drew inspiration from many sources including some which were modelled on Egyptian Obelisks, a surviving example of which can still be seen near Dunblane.
Hidden in plain sight: tenements and tunnels
Brick is often hidden from view but if you look you will find it. Peek round behind many tenements and houses, and you may find brick.
A number of buildings which appear to be built of stone are actually mostly constructed of brick! It also forms many hidden parts of our transport system, from the lining of railway tunnels to the building of remote lighthouses such as North Unst, Shetland.
A skilled craft worth looking out for
The skill and craft practices of the bricklayers who constructed the vaults at Fort George, the beautiful decorative chimney of Cox's Stack, and the many other fine examples of brickwork found throughout Scotland are worth treasuring.
Sadly, brick is a material which is often overlooked and underappreciated.
We shouldn't forget, though, that it has a long history of use in Scotland and is an important part of our traditional built environment. Brick brings great aesthetic and functional beauty to our villages, towns and cities, and we love it so!
So why not go out and find some beautiful Scottish brickwork today and let us know what you find?
Learn more about brick, its history, and how to clean, maintain and care for it in our Short Guide to Traditional Scottish Brickwork.
About the author: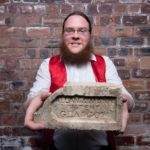 Moses Jenkins
Dr Moses Jenkins is Senior Technical Officer at Historic Environment Scotland and the author of our guidance on brick repair. He has a PhD based on researching Scotland's brick buildings and has written widely on the subject including the book Scotland's Tall Chimneys.
View all posts by Moses Jenkins