How to maintain your traditional home this winter
Conservation, Maintenance, Materials | Written by: Guest | Thursday 24 October 2019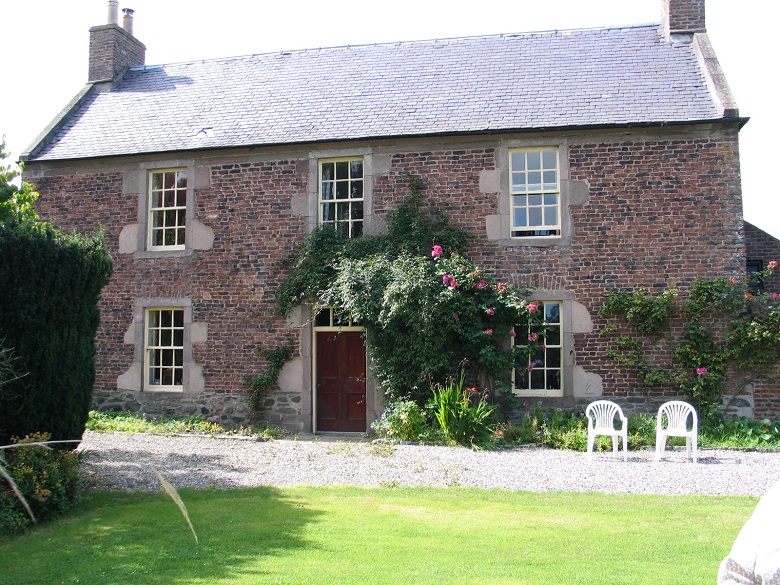 Maintaining your traditional home is more important than ever during the wetter, winter months. The cold and rainy weather can cause a lot of damage to buildings if they're not properly protected.
If you own a traditional home or care for a traditional building, discover some simple steps you can take to stay safe and warm in the winter without damaging your traditional home.
Ventilation
Traditionally built homes are largely made up of natural materials which let moisture pass through without getting trapped. Allowing this free movement of moisture is an important part of maintaining your home.
Poor ventilation can lead to:
crumbling mortar, peeling paint, and damaged masonry or brickwork
outbreaks of insect attack
To prevent ventilation issues, keep any grilles and vents clear. This is particularly important, especially on the sub-floor of your home, where rising ground levels, vegetation, and over-painting can obstruct your home's natural ventilation systems.
Keep hearths and flues open too. They are a crucial part of moisture control and ventilation. If they're not in use, cap the chimney with a well-ventilated cowl.
Windows

Traditional sash and case windows are very well suited to the Scottish climate and are extremely durable. They can have a lifespan of more than 100 years if maintained properly. However, in the winter months, it is important for homeowners to take extra care in window maintenance.
If the paint is breaking down, the exposed timber is more vulnerable to decay, especially with the increased winter moisture. Be sure to repaint as quickly as possible to minimise the damage. But be careful not to paint your windows shut.
Where windows have been painted shut, carefully cut through the paint using a craft knife. After repairs, make sure to seal all shutters and windows properly.
Roofs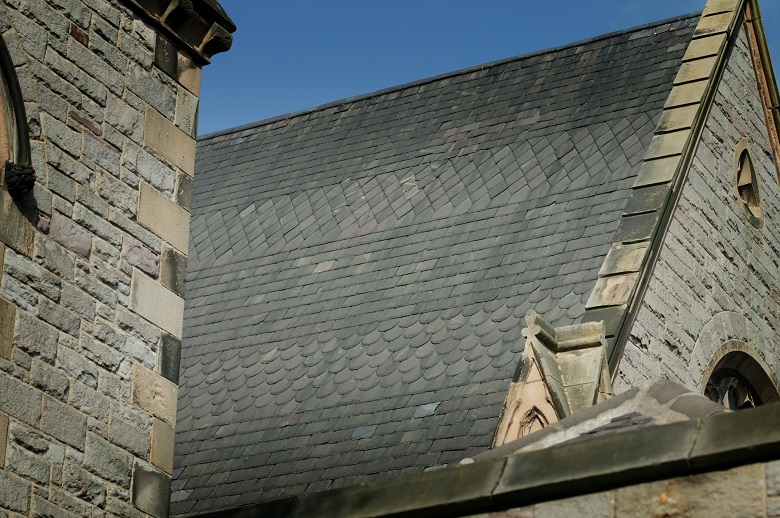 Many traditional buildings in Scotland have roofs made from Scottish slate or pantiles. These are long-lasting materials – slate can last up to 150 years or more. Some roofs are also covered with thatch or corrugated iron, and flat roofs can be found on many traditional buildings, particularly tenements.
Most heat escapes from the roof of a building. Any water that gets in through the roof can make its way down through the rest of your home.
Before the onset of winter, inspect your roof for any issues. Look at the inside as well as the outside of your roof, as evidence of leaks might help identify potential external problems. After any storms or gales, always check for loose or slipped slates or pantiles, and make sure thatched roofs are still intact.
If major work is required, use a local contractor experienced in traditional techniques. Organisations like the National Federation of Roofing Contractors are a valuable source of information to get you started.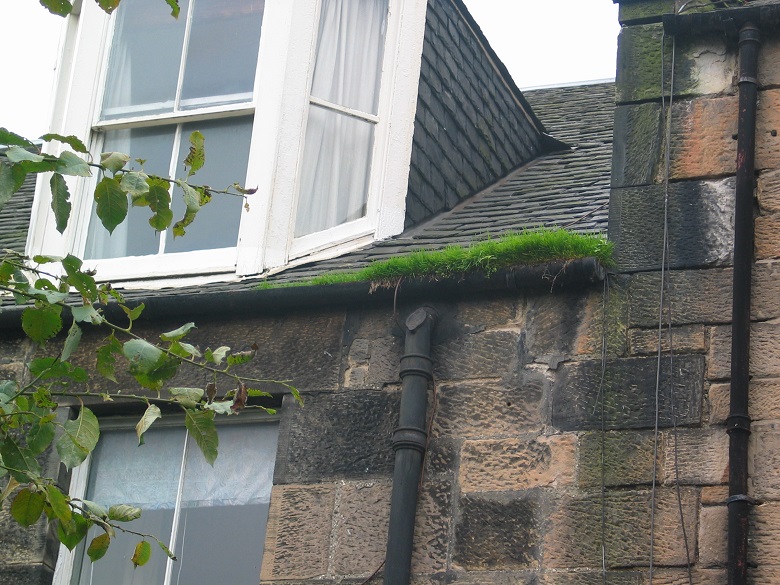 Gutters and pipes
Pipes, guttering, and other rainwater goods are essential to the well-being of your traditional home. Since they direct water off and away from your building, poorly-functioning rainwater systems often cause serious internal and external damage. This could leave you with costly repairs.
There are lots of signs to watch out for that tell you your rainwater goods or drainage might need a bit of TLC.
Outside this might include:
plant or algae growth
eroded mortar joints or masonry
damp staining on walls
failed render, i.e. splitting and cracking
wet rot in external joinery
damage to foundations
build-up of water in drains
Inside this might include:
damp and mouldy patches on plasterwork, walls or ceilings
decay of timber skirting and panelling
dry rot in structural and concealed timber
musty smelling odour
To prevent these issues, regularly inspect your rainwater goods, clearing out vegetation and debris. In the winter, turn off outdoor pipes if possible. To help prevent a burst pipe, be sure all pipes are properly insulated.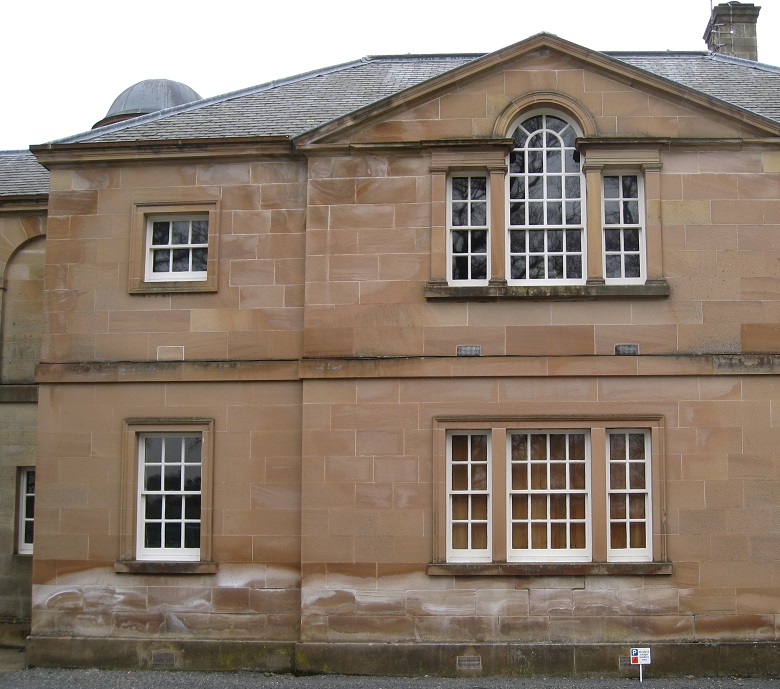 De-icing salts
During the winter months, many of us get rid of ice on our pathways using products like de-icing salts. However, salt spreading can cause problems for your traditional building such as:
corrosion of metal structures like gates, railings, grills and vents, steel frames, cast iron rainwater goods
damage to stone walls, mortars, brickwork, and paints, through delamination, scaling, flaking, fracturing or splitting
To avoid this, homeowners should remove snow and ice manually whenever possible and avoid de-icing salts when practical and safe to do so.
When using de-icing salts, use the less-damaging calcium or magnesium chloride salts. Avoid using sodium chloride, which has the worst effect on traditional materials.
If cold weather is expected, spread salt before freezing conditions. This helps to stop ice from accumulating, so less de-icing salt will be needed later.
How to care for your older home
Download our short guide on maintaining your home.
For more expert advice on caring for older buildings, explore our building advice and free publications. 
Learn more about the traditional skills that built Scotland  and discover 4 great reasons to learn one yourself.
About the authors
Maddisen Fostyni is a student from Arcadia University, USA. She was on placement with the Engine Shed to develop skills in outreach, education, and content development.
Mary Alice is a student from Arcadia University, USA. She was on placement with the Engine Shed to develop skills in outreach, education, and content development.
About the author: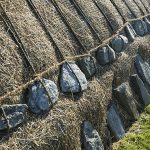 Guest
From time to time we have guest posts from partners, visitors and friends of the Engine Shed.
View all posts by Guest