4 surprising facts about our sustainable building
Climate Change, Materials, Sustainability | Written by: Rose Henderson | Monday 7 October 2019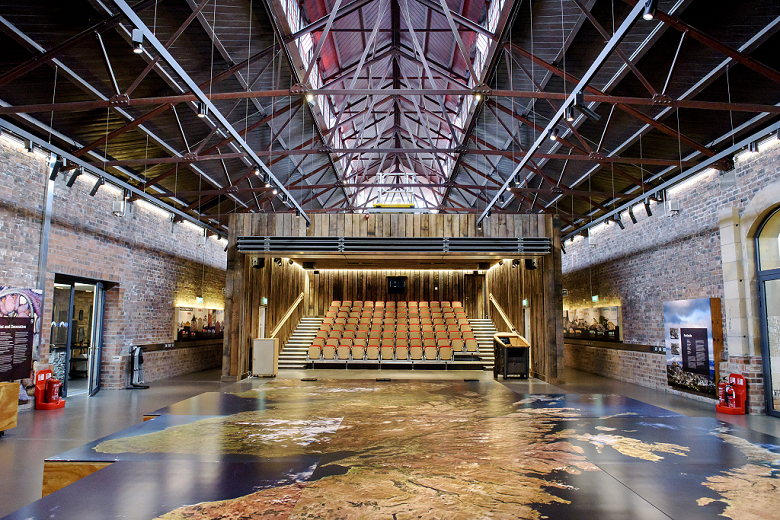 Some parts of our building in Stirling might look very modern, but a lot of the materials we've used are older than you might think.
The building itself is over 100 years old. It was once a military goods and transfers shed, built sometime between 1896 and 1913. The exact dates are unknown because of an information blackout! We extensively restored it to become our traditional building conservation centre, which we opened in 2017.
Re-using traditional buildings can tackle climate change and reduce our carbon footprint. And the processes and materials we use in traditional building restoration can go a long way to helping too.
Read on to discover 4 surprising facts about our sustainable building, from how we've used traditional materials in a modern way to recycling, restoring and re-use.
1. Some of our reception area began life at Holyrood Park and Caerlaverock Castle

When you walk through our doors, you'll be greeted by a friendly face and our big, beautiful reception pod. It was built exclusively for our building. But it's not as new as you might think! The cladding around the side of the desk was made from reclaimed school gym flooring. The counter-top was made by Glasgow social enterprise GalGael, using traditional woodworking skills to craft something beautiful from elm trees that were blown down in Holyrood Park. They also made our benches from a dilapidated, replica oak trebuchet from Caerlaverock Castle.
Giving materials a new lease of life is a great way to help the environment. Re-using materials has a lower carbon footprint because the materials are not newly manufactured. Nor do trees need to be felled for their timber.
2. Parts of our walls had a previous life as the Seaforth Bridge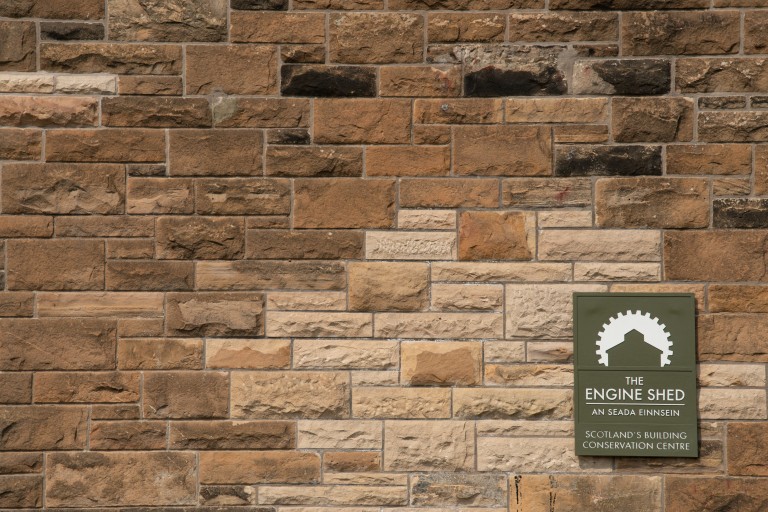 Traditionally constructed stone walls can be very sturdy, so we wanted to build on the strengths of the original Engine Shed which had a lot of stone still in good condition. However, years of neglect meant we had to replace some of the stone. When a local bridge in Stirling was being demolished, we saw this as a great opportunity to re-use the material for the repairs.
Using materials as similar as possible to the original stone was very important. Scientific analysis told us the stone from the demolished Seaforth Bridge was a close match to our buildings original masonry. Any new stone that we had to source came from the local Drumhead Quarry. This meant we didn't have to import stone, helping reduce the carbon footprint.
When looking at sandstone repairs, there's certainly a lot to consider.
3. Our 'wings' help our building to be more adaptable
 
Our building has two distinctive extensions. We've built them in such a way that none of the internal walls are load bearing. This means the use of our building can be adapted over time.
The longer a building can be used and adapted for new purposes the longer it will last. This approach also reduces waste when changes are required, so it was something we were really keen to do.
What's more is that we also made them using renewable, recyclable materials. We used zinc which is long-lasting and 100% recyclable. And we chose to use a lot of glazing to reduce our need for heating by encouraging natural light in. The benefits extended to the original shed building, giving it something of a thermal upgrade.
By working with what's already there in a traditional building, and being sensitive about new materials being introduced, we can make older buildings as energy efficient and sustainable as possible. Old doesn't have to mean cold either!
4. Our steampunk lectern has a subtle nod to our buildings past…
Our "steampunk" lectern is much loved by our visitors. Conservation experts from all over the world have stood behind it to share their knowledge on everything from stone conservation to the digital technology shaping our futures.
You might not know it from a first glance, but it's got a subtle nod to our building's past as a goods and transfers shed. Included in the design are some of the rails from the tracks which once ran through our building.
It was also made by a local blacksmiths in Edinburgh, who used skills which have been going for centuries.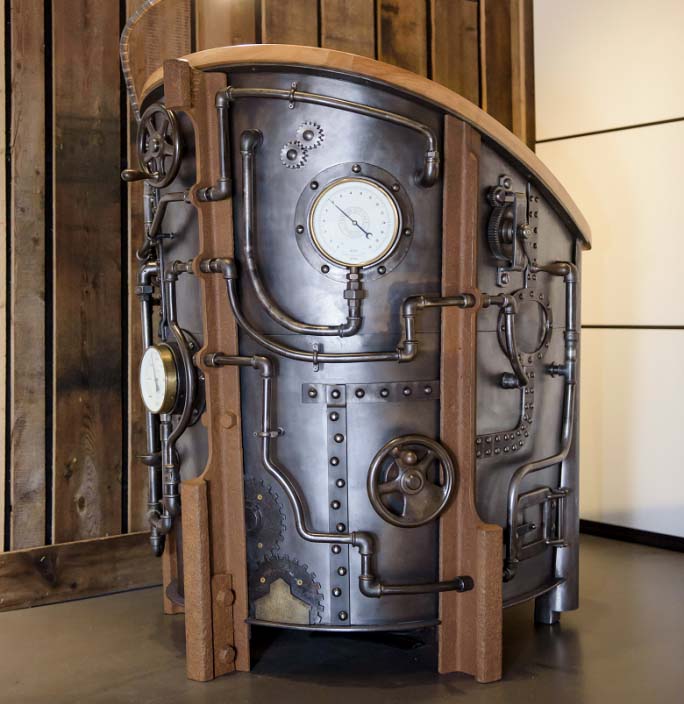 To see these unique features for yourself, you can visit our building conservation centre for free 10am – 4pm, Monday – Saturday.
We also have free building advice and publications if you're looking for guidance on traditional buildings, including guidance on climate change and energy efficiency. 
About the author: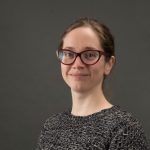 Rose Henderson
Rose works within the Communications and Media Team as a Digital Officer, looking after the Engine Shed's website and social media channels.
View all posts by Rose Henderson