John Allan: The Experimental Architect
Architecture, History, Materials | Written by: Guest | Tuesday 1 October 2019
John Allan (1847-1922) was an experimental architect who created some of Stirling's most distinctive buildings. He was a designer known for his 'rogue' use of styles, materials and symbolism.
Here we explore his life and career and celebrate his contribution to the city of Stirling where our building conservation centre, the Engine Shed, is based.
Who was John Allan?
John Allan was born on the 21 April 1847 to Margaret Christie and William Allan. He grew up in Carnock, Fife in Gowkhall with two younger siblings, Robert and Margaret.
It was at the Free Abbey Academy school in Dunfermline that Allan first developed his interests in classics, poetry and architecture. After graduation, he trained as an architect under Robert Hay, who was responsible for many of Dunfermline's public buildings.
Allan worked as an architect and land surveyor. He moved to Stirling in 1870, establishing a practice and taking on William Hunter McNab as an apprentice in 1877. McNab went on to design many beautiful buildings across Scotland, some of which are still listed today.
Social housing and sustainable materials
Allan hoped providing improved living conditions would influence improvements to society as a whole. He published books about these social and architectural issues, stressing the importance of using sustainable materials suitable for the local environment. This view was a direct result of Allan experiencing the slum housing in Glasgow and Stirling.
Allan's views can be seen in his houses on Albany Crescent. Demolished in 1965, he used red brick, and the houses had their own internal bathrooms. Later in 1873 Allan won a competition for designing worker's houses.
The rogue architect

Allan liked to experiment with different architectural styles. This earned him his reputation as a 'rogue'. He was intelligent and expressive, with his own unique style.
The structures built during Allan's early career reflected more traditional designs and materials. However, even then, Allan had begun incorporating unusual elements into his designs. He used dormer windows, a window that projects vertically from a sloping roof. This angered the Feuars  (Scottish landowners) as it ignored the strict building conditions placed on the King's Park area of Stirling.
Using innovative materials
It didn't take Allan long to establish a name for himself amongst the architects of Stirling. It was not only his architectural designs, but his innovative use of materials that allowed his work to stand out amongst the traditional stone structures of the city.
1-2 Bank Street (1890) and the Batterflatts at 4 Polmaise Road (1893) look very similar at first glance. You would be hard pressed to think that one was built as a bespoke villa, and the other a tenement block. Allan's use of exposed half-timber and white stucco emphasised the past, incorporating elements of the Tudor style.
In a country dominated by stone buildings, Allan became a pioneer in the use of brick as an outer finish. His creative use of materials resulted in these two very unique buildings in the cityscape of Stirling.
In 1878 Allan built his own villa at Cliff Bank, 32-34 Albert Place, Stirling. Using traditional ashlar masonry, the unique aspect to the buildings design comes from the use of smooth curves, rather than sharp edges. Allan reinforced his design with the addition of a glass cupula, a small dome-shaped cap that provided light for the internal staircase.
The Wolfcraig building, built in 1897 was Allan's crowning achievement, incorporating elements from all his earlier designs. The use of red brick and smooth curves returned with the addition of a lead, rather than a glass cupula.
A Versatile Legacy
Allan's mark on the city of Stirling is as a social pioneer, a reformer. He stressed the importance of using sustainable materials which were suitable for Stirling's local environment. He hoped that providing better living conditions would influence improvements to society as a whole – an outlook that came from his time in the slum housing in Glasgow and Stirling.
Up to date with Victorian and Edwardian research on sanitation and building advancements, many of the techniques Allan incorporated into his designs – like early cavity wall insulation using red brick, and indoor bathrooms – are still in use today.
Whilst his architectural style may not have been in-keeping or the norm, the structures he created pushed the boundaries of conventional architecture and have left a distinctive mark on the city and its people.
See if you can spot the inscriptions Allan left on Stirling's Wolfcraigs building, or his 'magic square' on Albany Place.
Visit us in Stirling to learn more about architecture and traditional building materials and skills.
Discover more about social housing with this blog about the 1919 Housing Act.
About the author: Chris worked as an Outreach and Education trainee at the Engine Shed in 2018. Discover more about his experience with us in his blog.
About the author: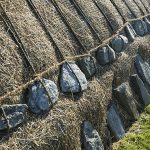 Guest
From time to time we have guest posts from partners, visitors and friends of the Engine Shed.
View all posts by Guest