Exploring tenement building details: a walk around Edinburgh
Architecture, Heritage, Materials | Written by: Hazel Saunderson | Tuesday 22 December 2020
When you walk around your local area, do you tend to walk with your head down or your head up? Do you focus on what is in front of you or get distracted by that which lies to your left, right and everywhere in between?
During the various stages of lockdown and different tier restrictions, I have been taking many local walks. What I find myself doing most when walking around Edinburgh is looking up. One day I will find myself comparing tenement windows, the next I'll stop and wonder about an architectural stone flourish. Some days, every building seems to have some unique detail that catches my eye. Admittedly on other days, I can walk for miles before anything really calls for more attention.
In Scotland, the term "tenement" refers to any building divided horizontally into two or more flats. I live on the third floor of a traditional tenement flat in central Edinburgh, and whilst working remotely over the last few months I have spent some point most days looking across at my neighbours chimney stacks and slate tiled roof. However, I've also spotted many tenement details whilst out on my regular walks.
Read on to find out what these tenement details are…
1. What date is the building?
The tenements in my street date to 1889. One of the things I love looking for on Edinburgh tenements is the date stamps. Some of them are fanciful and bold, like this 1869 on Glengyle Terrace.
However, some are also incredibly simple, like this one from 1875 on Bruntsfield Place, which you have to squint to see layered on the dark stone right up near the roof.
It's fascinating to see this timeline stamped on our streets and homes. Next time you are out for a walk, see if you can build a timeline of construction from the date stamps in your city or town.
2. How many storeys?
Three, four, five, six… some tenement flats rise high for buildings without lifts. I often count the windows to figure out how many floors a tenement has. Carrying home shopping up the many stairs of my three floors is more than enough for me! Being up high does have many benefits though, bringing fantastic light and views over the city.
With height comes stairs, often forming part of an internal close. The internal structure and brightness of these varies, there's a lovely internal cupola in mine flooding light down over each floor. If you wander down some of the small alleyways and into the courtyards just off the Royal Mile in Edinburgh, there are also examples with open stairs.
3. What is your favourite colour door?
Colour is not the only thing that sets tenement doors apart, but it is a delightful start. The residents of Edinburgh have painted their doors in many brilliant colours. I spotted all of the doors below on my latest walk and have started an onbeams list of Edinburgh doors that I will continue to add to on future walks.
If you look closely there are also other fantastic features to notice, from intriguing door knockers to characterful handles and traditional doorbells.
4. How old are the windows?
One common feature you will see on tenement flats is their sash and case windows. From grand bay windows to more modest designs, the upkeep of these traditional windows around the city varies also. I'm always intrigued to see if it is still the original old single glazed pane still in place. The familiar six panes to sash are still commonplace, although from the mid-1800s fewer subdivisions and larger, heavier panes of glass became common.
More glass can be found on tenements above their front doors. Not all tenement doors have them, but many do have fanlight windows and they vary in their grandeur. Sometimes containing gilded numbers, intriguing shapes or if you are lucky some stained glass.
5. Where did the windows go?
Another feature to be found in some traditional buildings and tenements in Edinburgh are windows or openings that look like they've been bricked up, transforming the exterior in sometimes surprising ways.
The bricked-up spaces in the middle photograph show likely locations of the Edinburgh presses and fireplaces in this block. This may indicate that there was originally an intension to build another block adjacent. In some locations they show where a tenement was demolished, but the side would commonly be rendered on those occasions.
6. Where is all the iron?
It's easy to find railing stubs in walls around Edinburgh, as many tenements in Scotland have lost their original iron railings and gates. However, there are still some nice iron examples to be found if you keep your eyes peeled. They really do add character to tenement buildings and create a strong structural divide between properties.
Plus, you can find some detailed iron pieces along many other parts of the building, from the rainwater goods, to the vents, stair railings and even up on the roof as finials.
7. Do you have nice tiles in your tenement?
I don't advise you to wander into tenement closes, but if you are lucky to live in a tenement or be visiting one, then do take a moment to examine the tiles in the close. These are the ones that take me to my front door each day. If you need more to feast your eyes on, TnmntTiles does a wonderful job of sharing a wide selection over on their TnmntTiles Twitter.
8. Soak in all that stone
Really what makes Scottish tenement buildings so striking is the sturdy stones, their patina and all their designs. They really shape the landscape of our towns and cities, the colour of the stone is also sometimes a great indicator of which city you are in, as you are more likely to find yourself surrounded by grey granite in Aberdeen, red sandstone in Glasgow, and the more yellow/white hues of sandstone in Edinburgh.
If you are out walking in your local area and have started seeing new building details, do share them with us on Twitter @HESEngineShed.
If you live in a tenement in Scotland, then you will find these guides and links useful for further reading.
About the author: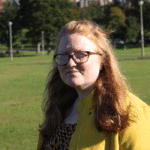 Hazel Saunderson
Hazel Saunderson is the Content Manager in the Technical Outreach and Education team. Her Content Team develop engaging, inspiring and educational content for the Engine Shed and related channels. This can include developing exhibitions, online courses, films, social media, blog and marketing activity.
View all posts by Hazel Saunderson