Tour the Engine Shed with us
Behind the Scenes | Written by: Rose Henderson | Thursday 3 December 2020
Fancy exploring the Engine Shed?
Even though our doors are closed right now, you can still explore the Engine Shed from the comfort of your home.
Discover some of our visitors' favourite parts of our building. Even see some sneaky behind-the-scenes areas you wouldn't usually get to!
The monolith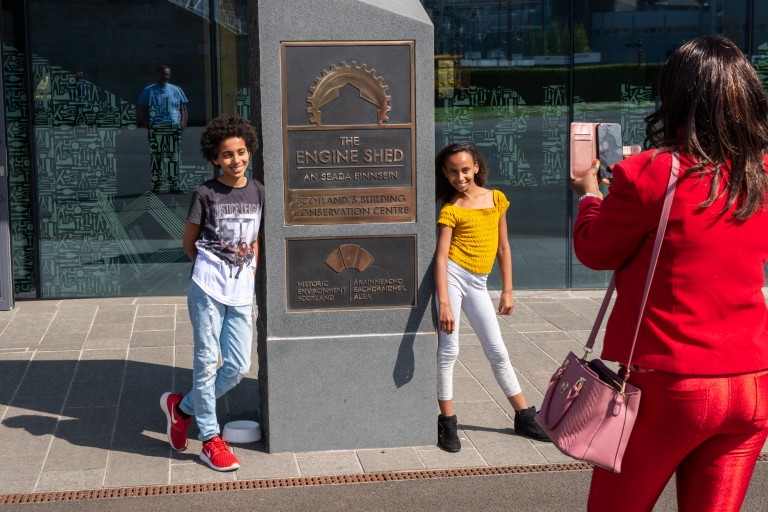 We're just across the bridge from Stirling train station. And one of the first things you'll see? Surely our massive monolith!
Like much of our building, the monolith is a homage to traditional materials and skills. It's made from Scottish whin stone, a stone that's been used in construction for thousands of years. Our sturdy monolith will last for many, many years to come!
Our visitors love to snap photos beside it. Have you captured it in a photo if you've visited our building? While we're closed, we'd love to see your photos. Tag us on Twitter using @hesengineshed.
The giant-map of Scotland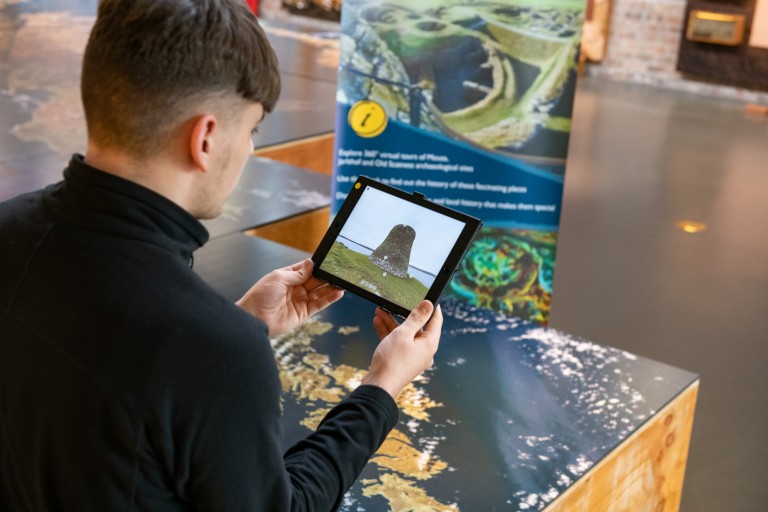 Speaking of giant…
We can't take you on a tour without a mention of this gargantuan map of Scotland. We challenge you to find a bigger one!
Visitors can borrow an ipad from reception and explore the materials that built Scotland through our AR map. Search by building type or material and explore some of the most iconic buildings and monuments in Scotland from the Forth Bridge to Glasgow School of Art. Oh, and of course, the gents toilets in Rothesay…
While we're all at home, explore the materials that built Scotland on our building advice pages.
The lab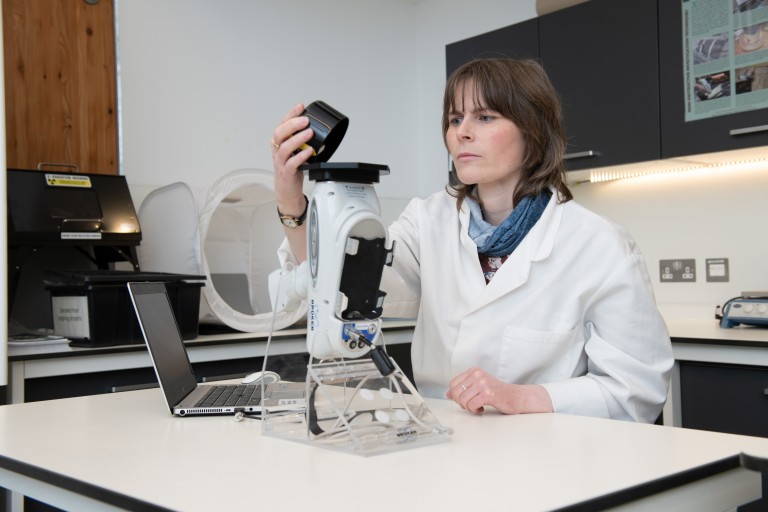 Did you know we have a lab?
Behind-the-scenes, the conservation science team analyse building materials. Their scientific analysis helps conserve the 300+ historic places Historic Environment Scotland care for.
The team contribute to our displays and exhibitions too. Go behind-the-scenes at one of our exhibitions in this blog.
The auditorium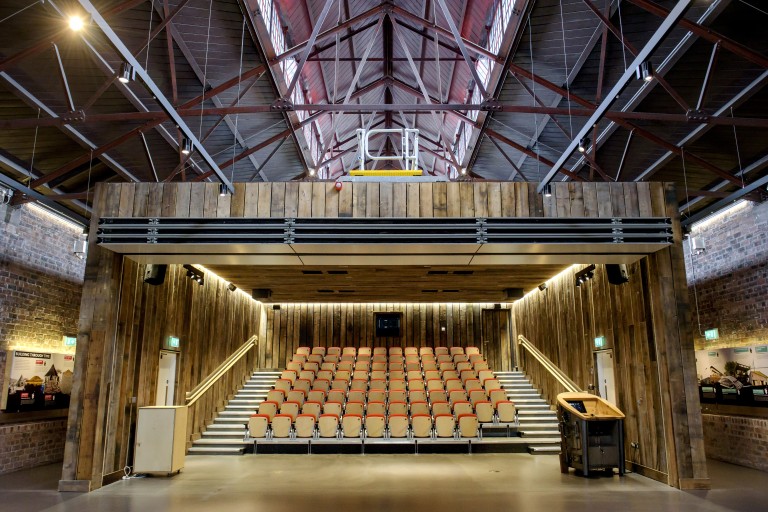 A lot of magic happens inside our auditorium.
A special shout-out goes to our "steampunk" lectern, forged by local blacksmiths. It even includes are some of the rails from the tracks which once ran through our building. A nod to our building's history as a goods and transfers shed!
Watch some of the films we've made, including exhibition films and clips of our work to the building.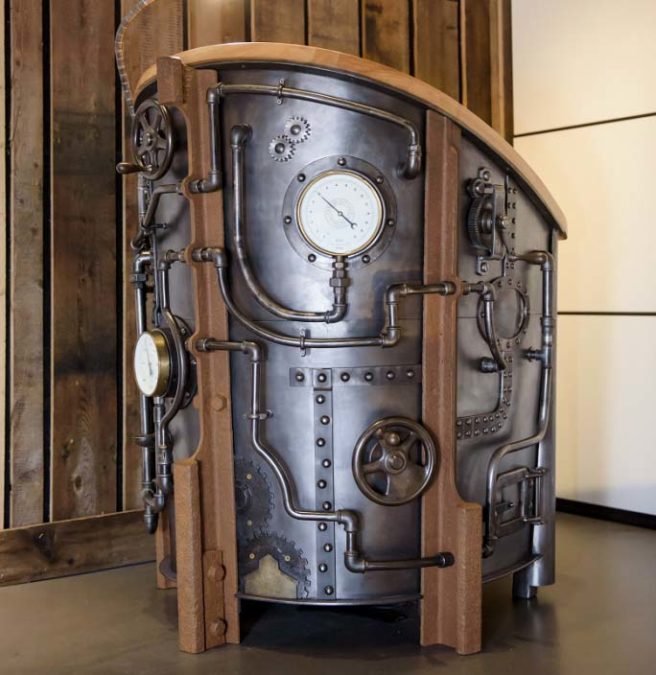 The toilets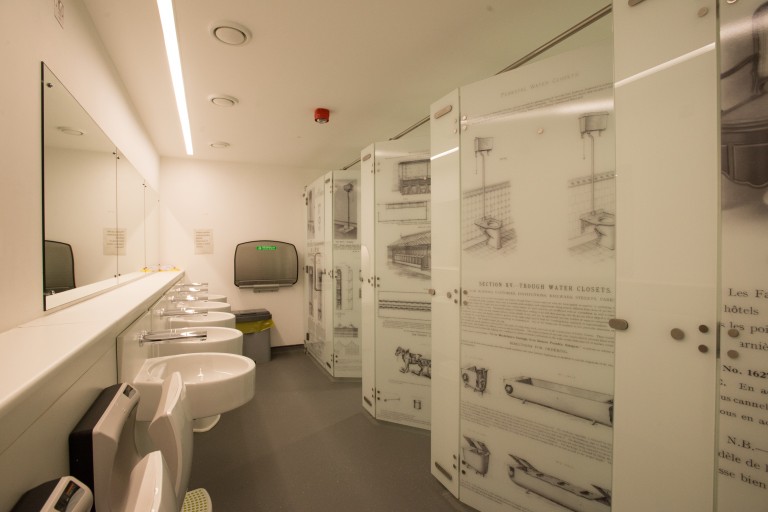 Our centre is all about learning. From school children to conservation professionals, we've got a space where everyone can learn, everywhere!
Yes, that even includes on the toilet.
Visitors love our toilet doors. They're decorated with beautiful illustrations of sanitary ware from archive catalogues.
While we're closed, you can explore some of the designs we used in this rare MacFarlane's catalogue.
The reading nook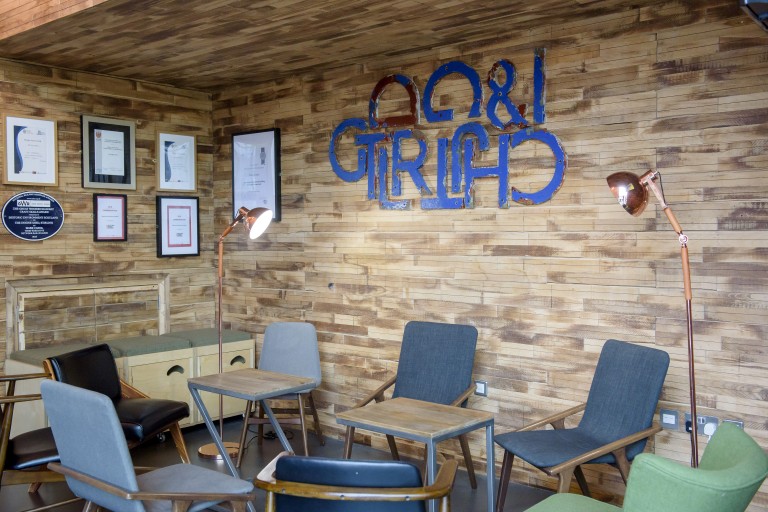 Sit in the nook and grab a book!
Visitors love our wee book nook. It's perfect place to grab a cuppa from our café and brush up on your traditional building knowledge with our free publications.
The good news? All our publications are online too.
While we're closed, enjoy publications including short and inform guides for homeowners and technical papers for professionals.
Tour the Engine Shed by film
If that's not enough, we've recorded a very special video tour for you to enjoy!
Six members of staff will tell you about their work and the building in this short film.
We hope you enjoyed our tour, and we look forward to when we can welcome you all again!
About the author: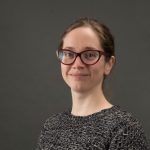 Rose Henderson
Rose works within the Communications and Media Team as a Digital Officer, looking after the Engine Shed's website and social media channels.
View all posts by Rose Henderson