Talking Shops: Developing the Exhibition
Behind the Scenes, Conservation, Guest Blog, History | Written by: Guest | Wednesday 7 March 2018
Stuart Kerr from Stuco Design explains how we created Talking Shops, an exciting new exhibition exploring Scotland's historic shopfronts.
Not only are shopfronts a populist subject that everyone can relate to but, having grown up with a father who collected enamel street signs, I also have a personal attachment to the subject. Isn't the beauty, though, that we all have a strong bond with shops and shopfronts?
As exhibition designers who also work with retailers, Stuco Design relished the prospect of developing 'Talking Shops' as an exhibition for the Engine Shed. Firstly, we hoped to create an approachable name that worked on different levels.
A few things first struck me when looking through the provided content. Mostly the historic imagery bursting with beautiful details, and there was even a more recent photo essay of shop owners we could pick from.
Traditional signage
For the overall look and feel of the exhibition we referenced traditional details like repeated patterns found in metal grates, and roundels used in ink stamps and seals. We complemented these with recognisable visual props including price tags and shovels in the style of a traditional hardware shop.
We also employed a young sign-writer to give a bespoke flourish to the section headers. This traditional, eye-catching signage is perfect for catching the eye of visitors, just like they do for passers-by on Scotland's high streets. We also created a map of Scotland for the exhibition, a low tech interactive way of engaging with visitors and allowing them to channel all the memories that have hopefully been evoked whilst taking in the images and words.
The High Street then and now
It was important for us not to focus too much on the past. We felt the current story of the high street could not be over-looked so we created a film which features a broad range of shop owners and specialists about the treatment of shop fronts. This video is displayed as part of the exhibition.
Bringing the exhibition to life
We used design to bring the exhibition alive. Like a shop front, it has to be visually appealing, engaging and well laid out. 'Window shopping' may lead to a greater interest in the subject over time.
As well as working with institutions like Campbell's Bakery in Crieff and Tam Shepherd's Trick Shop in Glasgow, we introduced local business to larger organisations who have started to occupy empty shop units in the advent of digital shopping. It is our hope that this exhibition will inspire a re-introduction of traditional shopfronts to our local high streets!
You can visit the 'Talking Shops' exhibition at the Engine Shed until Wednesday 22 June. Entry is free and the exhibition is open Monday – Saturday, 10am – 4pm.
Thanks to Stuart Kerr, Stuco Design, for this post.
About the author: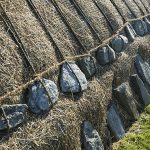 Guest
From time to time we have guest posts from partners, visitors and friends of the Engine Shed.
View all posts by Guest