Why building conservation is important for the future
Conservation, Maintenance, Materials, Sustainability | Written by: Jennifer Farquharson | Thursday 12 October 2023
Scotland has approximately 450,000 traditionally-made buildings. That's around 20% of our current building stock. These buildings were generally constructed before 1919 using traditional building materials, skills, and design principles.
Building conservation is the process of understanding older, traditional buildings to make the best decisions for their maintenance, care and repair. This is done so that:
buildings continue to function properly (for example allowing moisture movement to prevent damp)
buildings retain their cultural significance
we can continue to benefit from these buildings as a society
If not undertaken regularly enough, conserving traditional buildings can become a major undertaking.
In this blog, we talk about why conserving Scotland's traditional buildings is so important for the future.
Conservation will help us reach net zero
Conserving traditional buildings is critical in helping Scotland to achieve the net zero targets set by the Scottish Government.
Scotland's traditional buildings were constructed from local materials, including stone, brick, timber, earth and clay, lime, metal, glass, thatch and slate. By conserving existing buildings, we reduce the need to produce new carbon-intensive materials and reduce the demand for new construction.
This is nothing new. Scotland has a long history of reusing and repurposing buildings and the materials they're made from. We restored our building conservation centre in Stirling using recycled and local stone (from the old Seaforth Bridge and Drumhead Quarry), and as much recycled Scottish slate as possible. We even reused timber from a tree that blew down in Holyrood Park, an old trebuchet from Caerlaverock Castle, and old school gym flooring during our restoration!
It's estimated that up to 80% of the buildings that will be in use in 2050 already exist today. By continuing the tradition of reuse, we can prevent waste, reduce carbon emissions, and put less strain on diminishing resources.
Conserving buildings is about helping them adapt to modern environmental and climactic conditions. Energy efficiency plays a key role in this transition. Retrofitting traditional buildings will not only make them more energy efficient, healthier and more comfortable to live in, but it can also lower carbon emissions. Research has shown that a typical well-maintained and retrofitted traditional building will emit less carbon by 2050 than if it was demolished and replaced with a new building.
To learn more about how traditional buildings can lead us to a greener future, read the Green Recovery Statement for Scotland's Historic Environment.
Conservation helps us to understand our past
Buildings are central to our cultural and architectural traditions. These traditions don't only exist in grand castles and abbeys, but in our high streets, our homes, and our public, educational and recreational buildings.
This link to our past helps to sustain a sense of both national and local identity. Traditional buildings reflect our culture, society, economy, and creativity. They tell the story of how our lives have changed through millennia and how we got to where we are today.
Thatch, for example, is a roofing material that tells us how local communities used the materials around them to build their homes. By doing so, they created distinct regional styles across the country. Marram grass only grows in coastal sand dunes and so was used mostly in coastal areas. We can still see evidence of this today in the Western Isles.
The disappearance of thatch also tells us how advances in the production of other roofing materials like slate, pantiles, and corrugated iron, made these alternatives more affordable. They eventually replaced locally-sourced thatched roofs, making the rare surviving examples all the more precious. Alongside materials like earth and clay, these local "vernacular" building traditions could contain solutions for a more sustainable society.
Conservation teaches us about how buildings were made
By conserving older buildings, we can continue to learn more about their origins, the technology and engineering used to construct them, and how all the materials and elements of a building were designed to work together as a whole.
Traditional buildings are varied, but they were built in a way that suited their climactic and environmental conditions as well as how they were used. They were generally built to allow the free movement of moisture. It was important that the whole building—the design, construction methods, and materials—all worked together.
If our efforts to repair or simply maintain our older buildings involve inappropriate methods or materials, we can make problems worse and cause or exacerbate decay and deterioration. If the wrong mortar is used (like cement mortar), water gets trapped in the stones and causes them to decay over time. This puts the rest of the building at risk. In conservation, past interventions can teach us just as much about what not to do as they can about best practice.
Conservation will help us keep skills alive
If we don't maintain and conserve traditional buildings, they will decay and deteriorate until they are no longer healthy or safe to use. It's vital that we have the skills and knowledge needed to understand and work with the building materials traditionally used in Scotland.
Skilled craftspeople like stonemasons, bricklayers, metal workers and thatchers construct and maintain historic buildings. But the emerging skills shortage in Scotland means there are fewer people qualified to work with traditional materials and buildings. Over the past 50 years, we've seen increased levels of decay and deterioration in older buildings due to climate change. But at the same time, we've also seen a decline in:
technical expertise
availability of skills
maintenance programmes
education and training quality
Conserving traditional buildings means we need to invest in the skills supporting them and keep that technical expertise alive. To ensure these skills are passed down, we need to invest in high quality training and education like stonemasonry apprenticeships, diplomas in surveying buildings for conservation, and awards in energy efficiency to meet the challenges buildings face with climate change.
Learn more about skills training at Historic Environment Scotland.
Explore our free resources to learn more about traditional building materials, components, common defects, and energy efficiency.
Find out why the greenest building is the one that already exists.
About the author: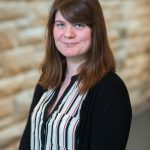 Jennifer Farquharson
Jennifer Farquharson is Content Officer at the Engine Shed. Jen creates engaging content about our sustainable conservation centre.
View all posts by Jennifer Farquharson