"The greenest building is the one that already exists": How traditional buildings are key to a circular society
Sustainability | Written by: Guest | Wednesday 20 July 2022
The construction and demolition industry is responsible for huge amounts of waste every year. In the UK, these industries account for around 60% of material use and waste. One of our students, Madeleine Clark, explores how traditional buildings are part of the solution to this problem.
The Scottish Government's target of creating a zero waste Scotland is impossible without making drastic changes to the way our existing built heritage, and the future of construction, is viewed. However, models for sustainable building practices already exist in the way our built heritage has been constructed, repaired and reused over previous generations. Take a look at some of the ways Scotland's building heritage can lead us towards a sustainable Scotland.
Reduce: Using traditional building methods can reduce waste
The demolition of traditional buildings to put 'eco-friendly' homes in their place could be seen to be paradoxical. We should be retrofitting existing structures to make them more sustainable, not demolishing old ones to replace them with new.
Where new buildings are necessary, using traditional building methods can reduce waste. Traditional building practices predominantly used local, eco-friendly materials, only bringing to site what was needed. Traditional styles create less waste. For example, diminishing courses in slate roofing allows slates of irregular sizes which would otherwise be trimmed or discarded to be used.
Due to cost and availability, using imported materials has become the norm, but accessing the rich resources Scotland has to offer once more could allow us to use local, sustainable materials.
We could also better rent or share materials for local repairs with tool libraries and apps for the resale of materials left-over from projects. Rather than everyone owning their own, these materials can be rented out or bought in small quantities when required for annual maintenance. Systems like this could encourage the pooling of knowledge and expertise within communities.
Reuse: Buildings that have already stood for a hundred years can last many more
Traditional buildings are often more adaptable to modern use than many post-war structures. Barns, schools, banks etc. have all been effectively adapted to different uses as their large open spaces can be subdivided. Dormer windows can be added to create ceiling height and more living space and extensions can be added. With regular maintenance, buildings which have already stood for over a hundred years can readily last many more.
Materials that are locally sourced, and likely to be compatible with existing local buildings, can be taken from one site and used for repairs to other traditional buildings – or to build extensions. There is a long history of stone walls being broken down and the stone reused, for example in rubble walling. For sites with issues such as cliff erosion or flooding, where buildings will be lost, there may be an argument to use the materials for sensitive repair elsewhere. If so, the sites should be carefully recorded, and then the tradition of reuse continued.
Repair: Maintenance is key to sustainable building practice
When traditional buildings are not performing well, it can usually be traced back to poor maintenance, or a failure to update necessary components such as rainwater goods to suit changes in environmental factors. Repair of traditional and vernacular buildings is often more straightforward than with modern materials. The same mud from unfired earth buildings could be reused to repair any damage done by simply wetting the original earth and rebuilding. Where communities built their own homes they would be familiar with the processes required to repair them as well, and would have had the tools and materials to hand at no/little cost.
A key issue that stands in the way of the repair of buildings is that the government incentivizes the construction of new buildings through tax breaks for new homes. The carbon footprint of a new build can never be as sustainable, and more financial encouragement should be put in place for the creation of sustainable housing converted from the current stock of empty and decaying built heritage.
Recycle: Traditional methods make recycling materials much easier
Metals and glass can be recycled many times without losing their integrity, but a lot of modern building materials are made up of compounds that are difficult to break down without a huge investment of cost and energy, making the process redundant. For example, plasterboards may need to be thrown away in their entirety, but plaster and lathe (narrow strips of wood) could be separated and the materials reused.
Recycling is most effective where the component parts can be more readily separated from each other. Old mortars were ground down to provide aggregate for new, glass could be melted down and re-blown. Painted walls were cut up into lathes for plaster application when painted finishes went out of fashion. The majority of materials in traditional buildings are able to be broken down into component parts for re-use or recycling, although of course some materials in traditional buildings should be treated with care – e.g. arsenics in paint and wallpaper, as well as issues with materials added later such as asbestos.
Explore some plastic free solutions for building refurbishment.
Rot: Some modern building materials won't break down for many lifetimes but traditional materials can be absorbed by nature
Most vernacular buildings (local or regional buildings that use traditional materials and resources from the area), if left unmaintained, would disappear into the environment leaving a minimal footprint. The same is true of most traditional buildings to a greater or lesser extent. Elements which can be taken for reuse can be removed, and the rest of the materials will typically be environmentally friendly and able to dissipate into the soil without harming the local ecology. Earth, turf and thatch are reabsorbed, wood rots down or is reused and stones are reused or become part of the landscape.
If you left a modern building untended it would take many more years before its mark on the landscape and local environment would diminish. Some modern materials will not break down for many lifetimes, if at all, and others will pollute water systems, as well as creating hazards for local flora and fauna.
A circular society could help create sustainable, inclusive communities
By looking to traditional and non-toxic building methods and focusing on a sustainable community-led building construction model, there is the opportunity to create more avenues for local people to learn about building crafts, and for greater engagement by people from all backgrounds, ethnicities and abilities. This could create more equity in the construction industry. By including all members of society in the construction process you create an increased awareness of the variety of jobs available in the industry, and the wide variety of skills that can be learned.
Altering our thinking about construction may fundamentally change for the better the relationship between the construction and conservation sectors, and encourage development of the built environment in a healthier, more socially inclusive and holistic way.
About the author: Madeleine is currently studying for an MSc in Technical Building Conservation, run by Historic Environment Scotland, at the Engine Shed, in partnership with Stirling University. After 10 months of intensive study and tuition from a wide range of experts, hands on sessions and access to many amazing sites, she is currently focused on her dissertation. She is looking forward to putting all that she has learned over the past year into practice, as she aims to get a job in the heritage sector after she graduates.
Learn more ways to maintain and repair a traditional building.
About the author: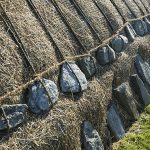 Guest
From time to time we have guest posts from partners, visitors and friends of the Engine Shed.
View all posts by Guest