Five Years of the Engine Shed: Our Staff Highlights
Behind the Scenes | Written by: Katie Sludden | Friday 1 July 2022
We can barely believe it's been five whole years since we moved into our building in Stirling! As we start to move on from the pandemic and consider how best to support the building conservation sector going forward, in this blog some of our team reflect on their highlights from the past few years.
Dorothy Hoskins, Technical Outreach and Education Manager
"I remember the Engine Shed being a difficult concept to articulate to people as we developed the idea, so it was fantastic to be able to open the doors in 2017 and introduce people to our vision. The positive reception we received was overwhelming with "this wasn't what I was expecting" possibly being the most used phrase throughout our opening events.
From that point on we sought to innovate our offer, bringing people together and championing the traditional materials and skills which are at the heart of the Engine Shed. From families playing and learning, to hosting international conferences, the range of activity we have undertaken is vast.
I think however, it's the feeling that we have created something unique and extraordinary which stands out. Whether through visitor feedback, or the international delegations on fact finding missions, our visitors find something in the Engine Shed truly different to anything else around. To me, it is that innovative model of engagement which has been critical to the success of the Engine Shed, and it is that which we will continue to build on as we look forward to the next five years."
Lesley Cadger, Programme and Quality Assurance Manager
"When being asked to write this, I asked my team for their highlights of the past five years. Reading through their responses made me think of all the amazing events, small and large, which we have supported or delivered at the Engine Shed and all the hard work which went into them behind the scenes. Hosting the International Preservation Trades Workshop in September 2019, the first time it has been held outside the USA, was a definite highlight. It was a combination of a conference with demonstration workshops, and we even opened it up to the public to have a go at the various craft trades for a day. It tested our logistical management skills but was a fantastic event for everyone who took part.
Obviously being closed over the pandemic has had an impact on our work, but we have shifted to create a new offer around training and events which leads on from those past events and will doubtless continue to challenge our logistical planning abilities!"
Charles Jones, Technical Conservation Skills Programme Manager
"My highlight is actually one we're still working on. Over the past three years we have gained approval for the Engine Shed to be a recognised UK training centre with both Scottish Qualifications Authority (SQA) and the National Open College Network (NOCN). This means we can now offer accredited qualifications and opens up huge opportunities for courses we can offer in the future.
One qualification we are developing is our SCQF Level 8 Diploma: Planning, Surveying and Recording the Condition of Built Assets for Conservation. It has taken a huge amount of input and planning from a wide range of colleagues to bring together this course offer – a true team effort. We have completed the first phase of development and are about to start delivery of the first unit while development continues for the rest of the course. It is a new way of working for us and a new format of accredited learning available from the Engine Shed which we hope to continue to develop."
Dr Aurélie Turmel, Science Manager
"It is a credit to the teams involved that we have been able to maintain site visits over the last couple of years. Feedback from the Heritage Science Team shows that going onsite is vital for us to provide guidance regarding property management. The strongest example was our advice and support for ongoing conservation work at Hill House, Helensburgh (National Trust Scotland). The building has suffered long-established damp problems which threaten the historic interior and the building fabric. NTS has embarked on a 10-year conservation program, installing a protective steel structure over the roof that aims to prevent wetting by rain and allows the building to dry slowly and naturally. Alongside the Digital Documentation and Innovation teams, also based at the Engine Shed, our team have been using non-destructive techniques to visually monitor moisture inside and outside the building.
Using thermal imaging and moisture monitoring techniques, detailed in Technical Paper 35, we have produced regular surveys since 2018 that track changes in moisture distribution over time. The visual effectiveness of combining scientific data and the 3D model of HES Digital team has provided a powerful tool to interpret the evolving distribution of moisture in the wall core during the drying process and will inform the conservation management of the building going forward."
Al Rawlinson, Head of Digital Innovation and Learning
"The Four Courts project stands out as a great example of how the Engine Shed brings together new technology with traditional skills. The Office for Public Works in Ireland are undertaking a project to conserve the Four Courts building in Dublin. As part of the work, a number of large stone capitals at the top of the building are being replaced. As part of a knowledge and skills sharing project, HES Craft Fellows were asked to carve a replacement capital that would be installed on the building.
Members of the Technical Education and Training Team and Digital Innovations Team based at the Engine Shed travelled to Dublin to scan an example capital and produce a mm accurate 3D model. A section of this model was then 3D printed at 1:1 scale at the Engine Shed. The print took over 500 hours to produce given its size and complexity! The full-scale 3D printed replica and a virtual reality version of the capital were then used as a blueprint for the Craft Fellows to work from to carve the replacement capital."
Dr Lyn Wilson, Head of Programme for Research and Climate Change
"The last five years have been a bit of a whirlwind and setting Covid aside, there have been so many memorable moments since we opened the Engine Shed doors in 2017.
Digital Documentation and Innovation has been at the heart of Engine Shed life and as a team we've loved the opportunities this has brought to showcase what we do, explore new collaborations to help us learn more, plus exchange knowledge and skills with global leaders in this field. The Engine Shed was envisioned as a melting pot and that's truly what it's become.
Hosting DigiDoc in October 2018 must be my standout highlight so far. This event brought together some of the most innovative visionaries in digital technologies from across the world from far beyond the heritage sector, to create three days of brain-melting, thought-provoking inspiration and fun. Topped off with an unforgettable ceilidh, it left us energised and bursting with new ideas. You can re-watch the DigiDoc talks here.
Karyn McGhee, Technical Conservation Development Manager
"My highlight has been working to further develop our long-standing training programmes. The HES Craft Fellow Programme has been running for over 30 years, partnering participants with master crafts people to train in traditional building skills.
This programme now runs alongside our Conservation Trainee Programme where people are trained in skills specific to building conservation across our teams.
It's been great to use the Engine Shed as a hub of learning and knowledge sharing for those on our programmes. We have hosted lots of learning events here and the teams are able to share their work with enthusiastic learners.
We continue to develop our programmes and this year we are going to train an apprentice in heritage science and an apprentice in collections management which we are excited to get started. It's brilliant to see people develop their skills and progress their career. Using the Engine Shed as a base to do this makes it all the more fun!
Want to find out more? Subscribe to our newsletter here and get the latest updates from the Engine Shed. 
About the author: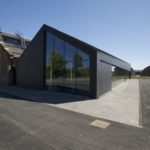 Katie Sludden
Katie Sludden is a Technical Education Officer, working at the Engine Shed as part of the Technical Outreach and Education team. She loves to develop engaging, inspiring and educational content.
View all posts by Katie Sludden