How to look after your traditional building, so that it can look after you
Homeowners, Maintenance | Written by: Joanna Cole | Thursday 9 November 2023
Looking after traditional buildings needn't be a complicated burden. Their long lives are testament to their quality of build, suitability of materials and fitness for purpose in their own location. When issues do arise in older buildings, it is often due to a lack of general maintenance.
The good news is that regular attention to the health of your property can prevent costly problems from developing. Look after it, and it will look after you.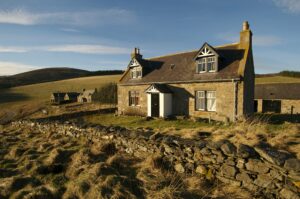 What can go wrong?
The biggest issues are usually related to moisture. Some simple checks can go a long way to achieving two main goals; keeping water out of the building and allowing moisture to escape.
Eight things that you can check yourself
1. Look for evidence of soaking or staining on outside walls
Soaked or stained masonry is a sign that something is wrong, and the cause is often cracked or blocked rainwater goods (gutters, downpipes and drainpipes). Saturated masonry can cause internal damp and can increase heat loss from the building as heat transfers more rapidly through wet material.
2. Check and clear gutters and downpipes
Keeping gutters and downpipes clear of leaves and debris prevents blockages which could lead to problems such as cracked pipes and soaked masonry. Ideally, do this in spring and autumn to ensure water is being carried away from the building effectively.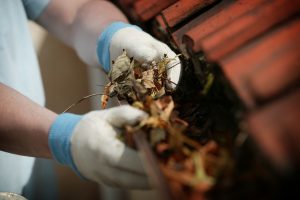 3. Don't forget the rainwater drainage that continues underground
Check that water flows away from your property freely. A blockage will cause water to back up to your building causing problems with damp. Check this by tipping a bucket of water down drain access points and seeing that it flows away rapidly. A torch can be helpful to see the result.
4. Check your roof regularly for visible issues
A well maintained roof is critical to the health of a building. If visible from ground level, check your roof regularly for damage. Useful tools for this are binoculars, or digital photographs that can be zoomed into.
If you find problems, such as slipped or missing slates, missing mortar between ridge tiles, or damage to flashings or valleys, it's important to get a professional to carry out the repairs to make it watertight. Remember that other common sites of water ingress (water entering into a building) include boundaries between an extension and the original building. Spotting problems early can help to reduce any impacts and costs.
Whether you can view the roof yourself or not, a periodic check by qualified roofing professionals is a valuable investment. Schedule regular, professional maintenance inspections, ideally every six months.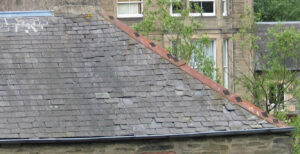 5. Take notice of material decay
Knowing which direction the worst weather usually comes from will help you to understand which parts of your property are the most exposed and vulnerable. Keep an eye on them as winds, freezing temperatures, wind driven rain and strong sun will all have an impact on the integrity of your walls, doors, windows and roof.
Signs of decay to watch for include:
Problems with mortar. Keep an eye on exposed walls for missing, loose, or cracked mortar. Conversely, if stone is eroding leaving ridges of mortar, this may indicate inappropriate use of cement-based pointing. This previously common practice is now known to hinder moisture transfer out of the building, and in some cases can cause the decay of adjacent stone. If this pattern of erosion is visible, talk to a professional with knowledge of traditional stonemasonry, to assess whether repointing with lime mortar is advised.
Masonry that looks misaligned or loose. Elevated structures like chimney stacks are particularly vulnerable, having little protection from the most severe weather. Check regularly for damaged or loose stonework to avoid falling masonry and water ingress.
Rotting wood in window frames and at roof level. Window frames can sometimes be assessed more closely from inside, as the worst weather-related damage is likely to be lower down in the frames. If so, check whether the wood feels soft when pressed with a metal item such as a screwdriver. Check the integrity of glazing putty and sand mastic, and look for paint that is split or bubbled, which can cause moisture to sit underneath.
6. Visually check your internal roof space for signs of water ingress, such as damp areas and staining on sarking boards
If your internal roof space is accessible, it is strongly advisable to check regularly for signs of water ingress, especially after periods of very wet weather or lying snowfall. Problems not obvious from external inspections may be easily pinpointed and allow for timely contact with professional contractors.
7. Be alert to damp smells and changes to internal joinery, especially on the ground floor
A damp smell, twisted joinery (for example, warped skirting boards), and floor level changes can all indicate a need to investigate. Wet rot in timber floors can be caused by joists in contact with damp masonry. Check outside to see whether the wall is dry and the adjacent ground level is below the air vent as it should be.
Air bricks or grilles are positioned just below indoor floor level and serve to ventilate the sub floor space, keeping moisture away from the floor timbers. It is common for garden renovations to have raised the outdoor ground level from its original position, bringing moisture into contact with the wall. This should be remedied where possible.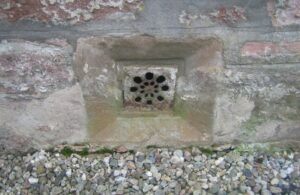 8. Factor in moisture balance when making alterations
Older buildings rely on moisture being able to escape via ventilation or passive transfer. Maintaining this moisture balance is important when alterations are made, as changes can create problems such as condensation, damp and mould. Three common examples are highlighted below:
Windows
Modern windows are typically a sealed unit. If traditional windows are replaced, it is important to have vents to allow the moisture exchange that used to occur passively.
Fireplaces
Sealing up fireplaces can cause condensation due to the loss of ventilation. Make sure the chimney is still able to breathe by adding vents at the top and bottom of the flue.
Attic space
Modern insulation prevents heat from rising into the attic space and the resulting colder temperatures affect the moisture balance. Vents should be added to the roof to prevent condensation.
It really is worth scheduling regular checks and maintenance to keep your building problem free. If you look after it, it will look after you.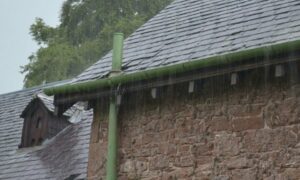 Want to know more?
This article summarises some of the most common and significant, moisture-related maintenance issues of older buildings, but is not exhaustive. We've got you covered though! 
We have an excellent opportunity to learn more in person at our award-winning Building Conservation Centre in Stirling, the Engine Shed. Why not join us on Friday 24 November 2023 for our learning event, Traditional Building Maintenance. Hurry, as booking is essential and will close a few days before. 
If you can't make our event, check out our Short Guide 9:  Maintaining Your Home  for lots more information, including an extensive summary table of Common Defects and Remedial Action on p37-41. 
Sometimes professional help is needed. Advice on selecting a suitable contractor, familiar with older buildings and traditional materials such as lime mortar, can be found on p26-28 of the Short Guide and on the Engine Shed website pages Hiring a contractor.
For advice on approaching common repairs in shared buildings check our INFORM Guide: Tenement Maintenance. 
About the author: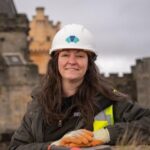 Joanna Cole
Joanna Cole is a Technical Content Officer, working at the Engine Shed. She is a qualified stonemason with a distant background in geology and experience in furniture restoration. She loves working with natural materials and looking after historic and antique things.
View all posts by Joanna Cole