Fun with traditional buildings: our free children's activities for the holidays
Families, Schools | Written by: Guest | Thursday 29 June 2023
When the school holidays approach it's best to be prepared. With our free printables and children's activities, keep young people learning and nurture their interest in Scotland's traditional buildings! Our free self-led activities have something for every learner and are easy to do from home or in the classroom. Have fun with paper, complete a wordsearch and check out our 3D models on the Sketchfab website. Use what you've got available to explore the building materials of traditional buildings.
Get inspired with Scotland's built heritage and don't forget to share your creations with us, we'd love to see them. Tag us on Twitter using @HESEngineShed.
Chocolate casting
Age: 6+
Supervised: Yes
Our most delicious activity and fun to do together! Learn about cast iron as a traditional building material. Explore the skill of casting iron into different shapes to create different objects. Then put your new knowledge to good use, but instead of casting with iron, make your creations with chocolate!
How Was It Built? Colouring Sheets
Age: Various levels of difficulty available
Supervised: No
Get creative with the kids or bring some mindfulness to your day as you colour in sheets of Historic Environment Scotland sites. These include Stirling Castle, Melrose Abbey and the Blackhouse in Arnol. Learn about the materials these places were built with and the people who made them.
How Was It Built? Wordsearches
Age: Various levels of difficulty available
Supervised: No
Stone, thatch and timber! Enjoy learning about Scotland's traditional buildings and building materials with our wordsearches. Get to know different building features and terms. Try out our easy versions or test your skills with something more challenging.
Make it with Paper: Scotland's Historic Places
Age: Various levels of difficulty available
Supervised: Fun to do together
Learn how some of Scotland's most incredible buildings and structures were made, then have a go at creating them yourself with paper! Our activities include 'Tenement House', 'Tower House', 'Materials Construction' and 'Changing Cities'. Colour and decorate your designs with what you have available.
Digital Explorers: Fun with Apps
New Sketchfab challenge
Age: 7+
Supervised: No
At Historic Environment Scotland, we care for more than 40,000 objects at 160 properties across Scotland. Discover some of these objects digitally using the Sketchfab website. Test what you've learned and answer the questions in this new self-led activity challenge.
Share your creations
Have you made something using our self-led activities? We'd love to see your creations. Share them with us on Facebook or Twitter.
Find out more
Want to see more examples of Scotland's traditional buildings? Find photos and facts in the HES archives and collections.
Discover more about Scotland's traditional buildings from our blog:
Find more learning activities relating to Scotland's history and heritage on the Historic Environment Scotland website.
About the authors
Katie Sludden is a Technical Education Officer, working at the Engine Shed as part of the Technical Outreach and Education team. She loves to develop engaging, inspiring and educational content. See more blogs by Katie.
Anne Schmidt is a Content Officer, working at the Engine Shed. Her background is building conservation and she enjoys telling people about different traditional building materials, particularly lime and sustainable refurbishment. See more blogs by Anne.
About the author: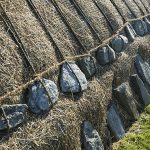 Guest
From time to time we have guest posts from partners, visitors and friends of the Engine Shed.
View all posts by Guest