Top early career tips from award-winning stonemasons
Behind the Scenes, Conservation, Skills | Written by: Katie Sludden | Friday 14 July 2023
If you're thinking of training as a stonemason, or know someone that might be interested, read on to hear from some of our amazing apprentices who might just convince you!
In Scotland, our built environment is largely made of stone and at Historic Environment Scotland (HES) we train new generations to look after this stone through programmes here at the Engine Shed and our Skills Training Centres in Elgin and Stirling.
Our apprentice stonemasons excelled in 2022 and have been recognised at the Natural Stone Show's Emerging Talent Awards in 2023. Now fully qualified, we meet Luke Maher and Douglas Stevens as they share their journeys to help you carve your own career in stonemasonry.
Luke and Douglas, why did you choose stonemasonry?
Luke:
I first discovered stonemasonry when working with the Antonine Wall squad doing grounds maintenance and got to know the Blackness squad of masons. This sparked my interest and when an apprenticeship came up at Doune Castle, I applied for it and was lucky enough to be successful. The idea of a practical job has always appealed to me so the chance to get to learn a traditional skill like stonemasonry was something that I found very rewarding and interesting.
Douglas:
I chose stonemasonry because I was keen to develop a practical and in-depth knowledge of working with stone. I already had an interest in historic buildings but wanted to learn more about how these structures were built, as well as the skills needed to maintain them. I had previously studied History of Art and Sculpture and I knew I wanted to learn specialised hand skills to complement and develop my understanding.
What types of stonemasonry are there?
Luke & Douglas:
Lots! [The main two are] cutting stone (banker masonry) or building stone into its finished place (fixer masonry). Fixing is all on site building and constructing masonry work, whereas a banker mason will be in a workshop cutting and hewing (splitting) pieces of stone. [There are also] additional skills such as letter cutting and stone carving.
What advice would you give someone looking to become an apprentice stonemason?
Luke:
Having a willingness to learn would be a big one. There is so much to stonemasonry; even after your apprenticeship you're constantly learning, so being able to take advice and help from others is key. Having patience and attention to detail is good because working with stone can be a time-consuming process. Being able to appreciate the process and take pride in your work is a big thing that I discovered.
Get out there and find a stonemasonry company that can offer the hands-on experience and knowledge with the wary eye of a tradesperson to keep you right.
Douglas:
Be willing to learn and ask questions. There is so much out there to learn, whether that's from your college lecturers, your colleagues on site, in books, podcasts, or from the internet. In my experience people are very happy and open to sharing knowledge and skills and any extra information you can gather early on in your journey is always valuable. I would also recommend looking at the construction and heritage sectors in a wider sense. There are so many related skills that can inspire you or show you how stonemasonry fits within the bigger picture.
What do you study as a stonemasonry apprentice?
Luke:
As an apprentice you'll learn both the theory and practical sides to the trade. [You learn] a very broad range of things at college, from new builds and all the building standards to conservation works and repairs. You learn and develop countless skills during this time, lots of industry skills like the cutting and building but also the personal skills, the confidence in your own abilities.
Douglas:
During the apprenticeship you learn all the important skills required to be a stonemason. As well as the proper techniques for building and cutting stone there are lots of other related skills such as drawing and interpreting technical drawings, basic geometry and mathematics. The apprenticeship is split into two main parts with teaching done at a college or from a training provider as well as time spent on site, where you gather evidence for your portfolio.
You've worked on some interesting projects, like Doune Castle, Arbroath Abbey and a work placement in Inverness at the Victorian Market. What were the highlights?
Luke:
Being able to travel round all these interesting sites and getting to be part of some really cool projects meeting new people and learning from them. As part of the training at college, I had the opportunity to take part in the SkillBuild competitions and although pretty stressful at the time, looking back on them, they were fun and have given me valuable skills I will take on throughout my career.
Douglas:
Working to install a tracery window at Dunkeld Cathedral (Perthshire) was definitely a highlight for me. This important historic site has a fascinating history and some unusual stonework and I was proud to contribute to the ongoing maintenance and repair of the structure. I was part of a team of apprentices who undertook the full process from start to finish including setting out the window full size, creating templates, cutting the stone units and then building them in using traditional skills, materials and techniques. We were supported by experienced tradespeople who guided us through the process and as a result we learnt a great deal about carrying out high quality masonry repairs to historic structures.
What are you doing now?
Luke:
Once I finished my apprenticeship, [I became an] Assistant Works Manager, so I'm currently enjoying this new learning process and the experience it's giving me.
Douglas:
I was recently awarded a place on The Princes Foundation's "Building Craft Programme" which supports those working in the construction sector to push their skills to the next level and continue on their journey to becoming the next generation of master craftspeople. I'm really excited to work alongside other passionate makers and develop skills and networks in an interdisciplinary environment.
We advertise all apprenticeship vacancies on the Historic Environment Scotland website when available.
Find out more
Find out more about our apprentice stonemason's 2022 SkillBuild win.
If you're considering a career in stonemasonry, find out more about stonemason jobs including average salaries and working conditions with My World of Work's stonemason profile. You can also find out more about building conservation training and skills development with our web pages.
For more inspiration of stonemasonry career paths, learn about former HES stonemason Lara's pathway to stonemasonry.
About the author: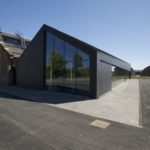 Katie Sludden
Katie Sludden is a Technical Content Officer, working at the Engine Shed as part of the Technical Education and Training team. Her background is in Archaeology and Fine Art, with recent experience in Conservation Area Regeneration. She loves to develop engaging, inspiring and educational content.
View all posts by Katie Sludden