Energy Efficiency Standards and Traditional Buildings
Sustainability | Written by: Guest | Wednesday 3 May 2023
The drive to net-zero and the need to reduce carbon emissions has led to the creation of a wide range of energy efficiency standards about the energy performance of buildings, including traditionally constructed buildings.
There are different standards which cover different parts of energy retrofit. Some cover the level of performance buildings must meet, others look at how retrofit work must be done. There are even specific standards for certain types of work.
With the range of different standards out there, it's important to understand them properly before carrying out any works. In this blog, our Senior Technical Officer Moses Jenkins and Content Officer Anne Schmidt dispel some commonly held myths about energy efficiency standards and traditional buildings, and tell you where you can find out more.
Myth 1: Traditional buildings are "hard to treat" and can't meet energy efficiency standards
Although we need to take into account how they perform, traditional buildings are not necessarily hard to treat. These buildings can meet energy efficiency standards. While the Scottish Government target to meet an Energy Performance Certificate (EPC) Band C is challenging, in many instances it can be met. It's also possible to meet other related standards, including the Energy Efficiency Standard for Social Housing (EESHH), which applies to social housing.
To achieve these standards, we need:
a good understanding of how EPC's are generated
appropriate methods and materials for improving energy efficiency
The u-value (a measure of heat loss) requirements for building elements (including walls, floors and roofs) can also be met when converting traditional buildings. This is set by Scottish Building Standards
Myth 2: Listed buildings are exempt from meeting energy efficiency standards
This is not the case. Although Scottish Building Standards allow a degree of flexibility, they still need to perform as close to the standards as possible.
When it comes to the Scottish Government standards, there will likely be some flexibility due to cost and technical feasibility. This is to be determined.
The thermal performance of all buildings, including listed buildings, can be significantly improved.
Myth 3: In order to comply with standards, I must use a vapour barrier when insulating a building
This is not a requirement of energy efficiency standards. While you must avoid condensation causing decay and impacting the health of occupants, you can do this in a variety of ways. The British Standard relating to condensation, BS 5250: 2021, contains specific information related to traditional buildings. Again, this standard does not require a vapour barrier.
Myth 4: Standards such as PAS 2035 are not appropriate for traditional buildings
PAS 2035 is a standard for installers who are working on energy efficiency measures. It's set by the British Standards Institution. There are particular requirements within PAS 2035 around qualifications and knowledge specific to traditional buildings. These must be met when work is being undertaken under PAS 2035.
If work is funded through certain funding streams, it will likely need to be undertaken under PAS2035. This includes provisions around qualifications and knowledge of the installers.
British Standard BS 7913:2013 should also be consulted when working on traditional buildings. This sets out conservation-based approaches.
Myth 5: Energy Performance Certificates do not apply to traditional buildings
Whilst it's true that there are limitations around how EPC's deal with traditional buildings, they are still the most common way of deciding whether a building meets a standard or not. Any assessment generating an EPC must take into account the specific requirements for traditional buildings.
RdSAP – the software which creates an EPC – is currently being reviewed.
Find out more about energy efficiency standards
There are many misconceptions around standards for energy efficiency and how they relate to traditionally constructed buildings. Our Guide to Energy Retrofit explores the standards in detail, and gives comprehensive guidance to anyone seeking to retrofit a traditional building in Scotland.
Read our other blogs about energy efficiency
About the authors:
Anne Schmidt is a Content Officer, working at the Engine Shed. Her background is building conservation and she enjoys telling people about different traditional building materials, particularly lime and sustainable refurbishment.
Dr Moses Jenkins is Senior Technical Officer at Historic Environment Scotland and the author of our guidance on brick repair. He has a PhD based on researching Scotland's brick buildings and has written widely on the subject including the book Scotland's Tall Chimneys.
About the author: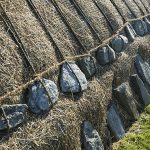 Guest
From time to time we have guest posts from partners, visitors and friends of the Engine Shed.
View all posts by Guest