Sundials, fountains and glasshouses: three gems you might find in Scotland's historic gardens
Architecture, Heritage, History, Materials | Written by: Jennifer Farquharson | Wednesday 2 June 2021
We've all got to know our local green spaces pretty well lately. But there are still hidden gems out there in Scotland's landscapes for you to uncover. You might have already read our blog on hidden gems in Scotland's historic gardens, but here are three more fascinating features in our historic landscapes and gardens.
Glass and Greenhouses
Glasshouses and greenhouses are some of our most impressive garden structures. They're often made from brick, cast iron, glass and rubble. They could be huge, ornamental statements or modest and simple affairs. But they grew food and plants which otherwise might not have thrived in the Scottish climate.
Some famous examples include the Temperate Palm House at the Royal Botanic Gardens in Edinburgh. Designed by architect Robert Matheson, it was the tallest glasshouse in Britain when it opened in 1858, reaching up to 72 ft. It even beat the Great Conservatory at Chatsworth, which you might recognise from shows like Pride and Prejudice and Peaky Blinders.
The Pineapple is a hidden gem in Falkirk. Named after it's impressive and bold masonry detail, the building (1761) was a summer house for the Earl of Dunsmore and contained glasshouses to grow pineapples. The pineapple itself was a symbol of wealth. Only the very rich could afford them. There were holes in the walls to build fires – just like at Kames Castle. Perhaps to provide pineapples with the warmer climates they prefer!
Kames Castle Greenhouse in Bute was part of the innovative gardening practices there. At one point, loose bricks were removed from the walled garden. Hay was burnt in the spaces left behind to create enough heat to grow soft fruit in the garden. When the site became a children's hospital in the mid-late 20th century, the residents were well-fed from the garden and glasshouse.
Sundials
Sundials were once a common feature of our gardens, but few survive today. Their makers often inscribed them with names or they were moved around from place to place telling us about people and places from our past.
They also tell us about the travelling tradespeople who took their skills across the country. The early and fine construction of the Lainshaw Sundial at Hensol House in Galloway was so similar to one of the sundials at Ladylands, North Ayrshire, that they are almost certainly the work of the same master mason.
The earliest known dated dial in Scotland is the Troquhain Sundial. A similar sundial also exists at Callendar House, Falkirk.
Fountains
Whether stone or cast and wrought iron, fountains are artistic monuments erected in our parks and high streets. They often commemorate a person or an event.
Fountains reveal the styles and designs that have influenced craftspeople in Scotland.
The fountain at Victoria Halls in Selkirk was made by the renowned Val d'Osne Foundry in France, by sculptor Hubert Lavigne. The Foundry was known for producing art. They worked with artists including Albert Ernest Carrier-Belleuse, Mathurin Moreau, and James Pradier.
The fountain in the aptly named Fountain Court at Culzean Castle is part of its 300 years of evolution. The fountain dates from 1877 and was built in the Baroque style from pink granite. It shows triton holding up a conch shell with dolphins spouting water below. The fountain was based on Bernini's Triton Fountain in the Piazza Barberini, Rome.
So whether you're exploring the grounds of a historic site or walking down the high street, if you see any of these structures, you may be looking evidence at lost sites, a mirror of artistry from around the world, or examples of our own industry and innovation in Scotland.
Share photos of what you find – or even historic-inspired examples in your own gardens – with us on our Engine Shed Twitter account or Engine Shed Facebook page.
Take a look at the Historic Environment Scotland Designations Portal and discover other hidden historic gems near you.
If you love Scotland's historic gardens, explore the Historic Environment Scotland Inventory of Gardens and Designed Landscapes.
About the author: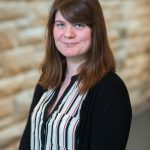 Jennifer Farquharson
Jennifer Farquharson is Content Officer at the Engine Shed. Jen creates engaging content about our sustainable conservation centre.
View all posts by Jennifer Farquharson