Meet Scotland's arts and crafts women
Architecture, History, Materials | Written by: Rose Henderson | Wednesday 13 November 2019
The Arts and Crafts movement gained momentum in Scotland from the 1880s. It was a reaction against the Industrial Revolution which encouraged mass production and uniformity.
Up until this time, women gained little recognition for their crafts, but during the Arts and Crafts movement women started to gain acceptance for their work. The movement helped create a community of middle and upper class women artists.
In Glasgow, there was a strong female community of artists and a distinctive style emerged from the movement. Our latest exhibition features a handful of the 70 artists and designers associated with the Glasgow Style. Here we look at three of these women.
Margaret MacDonald (1864 – 1933)
Sisters Margaret and Frances MacDonald were distinctive designers. Eventually, they became half of the famous "Glasgow Four" with their husbands, Charles Rennie Mackintosh and Herbert MacNair.
Margaret was a versatile and successful artist. One of her specialties was working with gesso, a white paint mixture used to prepare surfaces like wood panels or canvas for painting. She used this technique to make decorative panels for furniture and interiors, including the one above at the Hill House, one of Scotland's architectural masterpieces.
Because she worked closely with her husband, some of her work was attributed to Mackintosh. Margaret had a lot of input on the design of Hill House and created much of its spectacular interior.
Despite often being overshadowed by her husband, Margaret is one of the best known women artists of the arts and crafts movement.
Frances MacDonald MacNair (1873 – 1921)
Frances was a methodical and ambitious metalworker, watercolourist and embroider.
She studied at Glasgow School of Art (GSA) from 1890 to 1894. After working with the Glasgow Four and opening a studio with her sister, Frances moved to Liverpool with her husband Herbert McNair in 1899, where she taught at the School of Architecture and Applied Arts.
Frances moved back to Glasgow in 1908, and began teaching at GSA. Her controversial style at the time featured sexual imagery and androgynous female forms, and was published in art magazines like The Studio. Her beaten metal work, graphic designs, and watercolours were exhibited in Vienna, Turin, Liverpool and London.
However, after their initial success Frances and her husband went through some difficulties. Their careers went into decline, their businesses failed, and they lost a lot of money.
It is unclear why, but after Frances MacNair's death in 1921, her husband destroyed most of her work and his own, before moving from Glasgow to Argyll where he died in 1955. No more than a dozen of MacNair's symbolish watercolours which depict the choices facing women survive today.
Jessie Newbery (1864 – 1948)
Jessie Newbery was born in Paisley, near Glasgow, in 1864. With her independent nature, she travelled to Italy when she was eighteen. This is where she became interested in mosaics and textiles.
She began her studies in textile design and stained glass at Glasgow School of Art in 1885. Just ten years later, she was the head of the embroidery department.
Jessie believed in making good quality design available to everyone and she taught this to her students. Instead of using pre-printed patterns and transfers, she encouraged simple stitch designs. She used materials like hessian, calico, and flannel in her craft, so that everyone could afford fine embroidery.
From 1895, Jessie taught enamel work and mosaics at GSA.
She continued embroidering until her death in 1948.
Arts and crafts today
Today, the Centre for Advanced Textiles based at Glasgow School of Art provides cutting edge facilities for textile design education as well as providing digital fabric printing and textile design services.
The centre created linens for an exhibition we had on display in the Engine Shed in 2019/2020. The motifs on the linen represent the style of each of the five women who were pioneers of the Scottish Arts and Crafts movement.
See the linens being made:
About the author: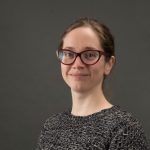 Rose Henderson
Rose works within the Communications and Media Team as a Digital Officer, looking after the Engine Shed's website and social media channels.
View all posts by Rose Henderson