Scotland's shops through the centuries
History, Materials | Written by: Rose Henderson | Friday 20 December 2019
A shopfront, in its simplest form, is a door with a window and a signboard. Over time, shopfronts have evolved, from outdoors open market places to elaborate and fanciful department stores and arcades.
Scotland's towns, villages and cities tell the story of trade, innovation and creativity through their shops. Here we take at a look at some of Scotland's shops through the centuries.
The 18th century fixed shop
Hundreds of years ago, trading in Scotland often took place out in the open, on the streets. But in the later 18th century, fixed shops emerged in Scotland as rivals to these long-standing street markets and annual fairs.
Local craftspeople like stonemasons and joiners created Scotland's earliest shops. Their designs reflected locally available materials and skills. These early shops were often simple adaptations of homes or small locked timber booths.
Glass technology heavily influenced the design of early shops. During the 18th century, the size of glass was restricted by the available technology. And so this meant both shops and homes used multiple small panes to create windows.
If you spot a shop with bow windows like Deuchars in Perth, it's design was influenced by the 18th century, or it very well might be an 18th century shopfront!
A competitive 19th century
During the 19th century, shops became more sophisticated in design. As competition heated up, shop owners knew they needed to stand out with specially designed shopfronts.
Things were different in the countryside. Rural shops kept a simple approach, using basic signboards with lettering painted by local signwriters to show they were open for business. But in urban areas with greater competition, shop owners needed to be more creative and inventive.
With the invention of plate glass in the 1830s and the lifting of the Glass Tax in 1845, shop owners could have much larger areas of glazing. The rapid expansion of Scottish iron foundries from the mid-19th century offered new design opportunities to create taller, lighter and airier shops. Today in St Andrews, Fife, almost thirty cast iron shops dating to the late 19th century survive.
The end of the 19th century also saw the rise of chain stores, a new breed of retailer. Thomas Lipton, with his grocery chain which originated in Glasgow, was one of the first. Chain store owners developed their own identity and used fashionable materials and designs to promote their brand above the growing competition.
Innovation and design in the 20th century
At the turn of the 20th century, shops were elegant in design with curved glass, bell-shaped entrances and decorative mosaics bearing the name of the shop owner.
Shopfitters used high quality materials like brass, mahogany and stained or etched glass. Ceramics and polished stone were also fashionable for their sleek looks, including faience (a glazed terracotta) and terrazzo as well as marble cladding. Sunrise motifs, common in 1930s domestic properties, also featured on some shopfronts.
Despite economic fluctuations in the inter-war period, the late 1920s and 1930s proved to be one of the most innovative and exciting periods of shop design. Styles were decorative and inspired by the Art Nouveau movement.
Retailers including drapers, department stores, shoe shops and jewellers adopted 'arcaded' frontages. These elaborate entrances were made possible during the 1920s and 1930s by the increasing availability of electric light. With less reliance on natural light, entrances could be deep and complex with showcase islands. However, the popularity of this design was short lived due to the high maintenance needed for the large display space. Because of this, surviving examples are rare nowadays.
Shopfronts today
During the post-war period, many towns were redeveloped and core historic areas were demolished in favour of modern shopping centres. Cheaper materials like concrete, aluminium and plastic became popular. As a result, gradually, the appearance of town centres deteriorated.
While traditional shops can seem simple, they often have many layers of history. As well as giving a glimpse into society and history, understanding how shops originated and the changes that have been made to them over time can help develop the best strategies for caring for them for the future.
Read our free guide on Scotland's traditional shopfronts. 
Watch our short film to meet Scotland's traditional shop owners of today, and learn about the traditional skills keeping these shops in good shape.
About the author: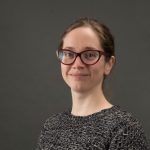 Rose Henderson
Rose works within the Communications and Media Team as a Digital Officer, looking after the Engine Shed's website and social media channels.
View all posts by Rose Henderson