Grasping at Straws: Up Close and Personal with Thatch
Behind the Scenes, Conservation, Materials | Written by: Stephanie Weinraub | Friday 4 May 2018
With only around 250 thatched buildings in Scotland, thatched buildings are a rare find. As thatch traditions slip away, caring for these beautiful buildings is more challenging than you might think. Read on to discover more about thatch repairs to Torthowald Cruck Cottage, a historic cruck cottage in Dumfries and Galloway…
They say that internships should be a learning experience, and there are few places as effective for learning as being up on a thatched roof.
Taylor, the Technical Research Intern, and I have gone down to Dumfries and Galloway for the day, to the village of Torthorwald, a tiny village with a real gem: the Cruck Cottage. The cottage is a traditionally-constructed earth-mortared house. It's complete with a straw-thatched roof, sadly damaged by fire.
Although thatched roofs get some bad press for being fire risks, this particular instance was a result of deliberate arson on a building valued by the village. It has now been done up to reopen as a museum for the 2018 season.
But as unfortunate as the arson episode is, the repair of the building has given Historic Environment Scotland's Traditional Skills and Materials team an excellent opportunity to observe and document the repair process of a rare building type. Thatched roofs are scarcer than you might think.
There are only about 250 thatched buildings left in Scotland, showing just how much this craft skill has declined. Much of the loss has occurred only in the last half century, since the Second World War.
Consequently, Historic Environment Scotland has made it a priority to study, record, and foster the preservation of thatched roofs and the thatching tradition. My own internship in traditional skills and materials is a result of this initiative.
Getting Stuck-In
Cruck Cottage was thatched as recently as last summer, as part of the museum refurbishment funded by a community trust. Jonathan Botterell had done the thatching work then, and he returns now to do the large patch repair.
For him, like-for-like replacement is easy enough: he just needs to match the work he did last summer. The trick is to make sure the join between old and new is well feathered-in. This means it doesn't become a weak point for rainwater to enter.
Modern World Problems
One of the main difficulties in doing an authentic thatching job today is sourcing the right materials. Getting the thatch material right is key to making sure the building is authentic and within with the landscape.
This is particularly ironic when you consider that traditional materials were often used exactly because they were local and easily sourced. Now in a world of imports, connectivity, and hyper-efficiency, changing farming and land management practices have made sourcing local materials more challenging.
What's more, straw thatch derived from wheat, oats, straw, barley or rye can be difficult to match with historical examples. Modern agriculture has changed the physical properties of our cereal crops, developing strains with shorter stalks and larger corn heads. This is good for efficient food production, but less suitable for thatching which needs long stalks. Jonathan sources his thatch from a farmer in Yorkshire who still grows wheat of the traditional variety.
Thatch Traditions Slipping Away
Thatch is the ultimate traditional building material. Distinctive regional variation in materials and techniques don't just allow thatched buildings to harmonise visually with the landscape. They actually give them specificity and a sense of place – almost like a local dialect or accent.
Something I think about often is how suddenly traditions like thatch are disappearing. Thatch has been on the decline for about two hundred years, ever since slate and pantile became broadly available.
This might seem like a gradual decline, but when you consider that thatch has been the default roof for buildings ever since building was invented. This is perhaps 10,000 years in Northern Europe. To lose a tradition that old and deep in only two centuries is shocking and abrupt. We are right on the cusp of breaking the link of knowledge and tradition that connects us all the way back to places like Skara Brae, Jarlshof, and the Scottish crannogs.
And with fewer than ten thatchers practicing in Scotland, this is a worrying prospect. Historic Environment Scotland is working to increase training and apprenticeship opportunities to preserve not just the buildings themselves, but the craft of thatching itself.
See for yourself
So next time you see a thatched building, see what you can notice about it:
what is it thatched with?
is it very tidy and stiff, like reed or straw, or is it a bit shaggy and feathery, like heather?
does it look smooth and windswept, like the marram grass roofs of the Hebrides?
Look around and see if you can spot the material in the landscape. Then, take a moment to appreciate that you're looking at a very special and rare thing indeed.
Learn more about the Cruck Cottage.
Explore the full refurbishment case study here.
About the author: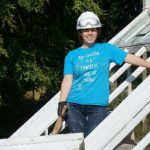 Stephanie Weinraub
Stephanie Weinraub is a Technical Conservation Skills Project Officer at Historic Environment Scotland. Stephanie is interested in all elements of traditional craft and materials, but she specifically focuses on thatch, plasterwork, and earth construction. She loves "reading" buildings, and has an unashamed fondness for castles.
View all posts by Stephanie Weinraub