Restoring Renaissance Glory at Stirling Castle
Conservation, History, Materials | Written by: Sophie McDonald | Friday 3 February 2017
Stirling Castle's Royal Palace fell into disrepair, going from being a symbol of the Scottish crown's enlightenment and international outlook, to a dilapidated army base. Our Palace Project, completed in 2011, aimed to restore the Palace to some of its former glory.
Out with the new, in with the old
The intention of the Palace Project was to refurbish and furnish the interiors of this beautiful building. The Palace was upgraded with new finishes, fixtures and furniture, to return it to how it's likely to have looked when it was first completed in 1538.
Practically, refurbishing the Palace and presenting it as we think it appeared in the past meant creating new tapestries, furniture, stained glass shutter board windows and even doors, as well as conserving and repairing the historic material of the building.  Every change had to be justified using historical or archaeological evidence. Other castles and palaces across Europe were also used as references. Scotland was very much a European country in the 16th century, and we know that James V was very interested in continental fashions. Therefore, it makes sense to look at other European buildings when trying to understand what Stirling Castle's Royal Palace would have looked like when it was used as a royal home.
Recreating the Renaissance
Understanding this was a challenge. When the army moved out, the Palace was a shadow of what it had once been. Only the skeleton of the building remained.
To get an idea of what parts dated from which period, the building was studied and recorded using archaeological techniques. For example, we used dendrochronology (analysing tree rings) to date the beams from the building's upper floors. This allowed us to understand how different parts of the building related to each other. As we had chosen to return the Palace to how it may have looked in the mid-1500s, this was important information to have. It let us know which parts were later additions, and which parts were historically significant and important to highlight.
A reminder of restoration
There are parts of the Palace that we haven't restored – the fireplaces, for example, contain tiny traces of older paint that could give us useful information in the future. We've left them as we found them, so we don't miss out on that information by covering it with new paint.
We've also left one part of Stirling Castle's Royal Palace deliberately untouched. The West Gallery, a passage providing access to the Royal Lodgings, has been carefully stripped back to the bare walls. This is so that visitors can see the underlying archaeology and how the building has changed over the past 500 years. It's an important reminder that, while the way that we have presented the Palace has been informed by years of dedicated research, it can only ever be a reconstruction of what might once have existed there.
Discover more conservation case studies.
About the author: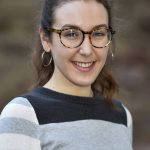 Sophie McDonald
Sophie worked as a Digital Content Officer with Historic Environment Scotland until 2017, spending her time looking after the Engine Shed's blog posts and social media channels.
View all posts by Sophie McDonald