Robert Burns and the Ruined Royal Residence
Conservation, History | Written by: Sophie McDonald | Wednesday 25 January 2017
Robbie Burns led a colourful life, full of different loves, lifestyles, and career changes. In the last few years of his life, the ploughman poet worked as an excise man, collecting taxes.
Burns put this job at risk when, in June 1787, he visited Stirling. Upset by the ruinous state of Stirling Castle's Royal Palace, Burns scratched lines expressing Jacobite sympathies on a window pane at Wingate's Inn (now the Golden Lion Hotel). It seems as though Burns was warned that there could be repercussions for expressing Jacobite sympathies, and he returned two months later and destroyed the window pane – but not before the lines had been recorded.
Written by Somebody in the window of an inn at Stirling on
seeing the Royal Palace in ruins.
Here Stewarts once in triumph reign'd,
And laws for Scotland's weal ordain'd;
But now unroof'd their Palace stands,
Their sceptre's fall'n to other hands;
Fallen indeed, and to the earth,
Whence grovelling reptiles take their birth.
The injur'd STEWART-line are gone,
A Race outlandish fill their throne;
An idiot race, to honor lost;
Who know them best despise them most.
"Very magnificent, but all in decay"
Burns wasn't the only writer to notice that Stirling Castle's Royal Palace had fallen into disrepair. As far back as the 1720s, Daniel Defoe had written
…the palace and Royal apartments are very magnificent, but all in decay… we thought it would be much better to pull them down than to let such buildings sink into their own Rubbish…
It hadn't always been this way. When it was built by James V in the 1530s, Stirling Castle's Royal Palace was a magnificent statement of how modern and outward looking the Stewart dynasty were. But James died young. His grandson, James VI, was crowned King of England in 1603, and after this only came back to Scotland once, in 1617.  The country's royal residences were neglected, and virtually abandoned.
Under military protection
There had always been a military presence at Stirling Castle – the city lies in a very strategic location. From the late 16th century onwards, the castle was only being used by the army. This was, in some ways, a blessing in disguise. Because the Palace wasn't being lived in by the Royal Family, alterations to make it more fashionable or comfortable didn't take place. Examples of Renaissance interiors are rare, because they've often been altered or poorly maintained. Stirling Castle's Royal Palace avoided that fate, and has been preserved for the most part as it would have been in the 16th century.
The army did make some changes to the Palace, including using the Prince's Tower as a nightclub! The decorative woodwork from the interiors was stripped out, the ceilings were raised, and stairways, windows and doors were all added.
A royal residence reborn
Although Robbie Burns clearly realised how important Stirling Castle and its Royal Palace were in the 18th century, it wasn't until the 19th century that its significance to Scotland's heritage really began to be recognised. When the army moved out of the castle 1964, restoration and conservation work could finally take place. It was only in the 1990s that this work really started – the Great Kitchens, Chapel Royal and Great Hall were all restored, refurbished or recreated. The Palace, the jewel in Stirling Castle's crown, was the last part of this ancient royal seat to be conserved. Read about how we did this next week.
Find out how to visit Stirling Castle and get details of what to expect when you visit our conservation centre.
About the author: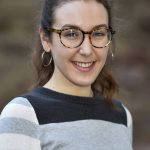 Sophie McDonald
Sophie worked as a Digital Content Officer with Historic Environment Scotland until 2017, spending her time looking after the Engine Shed's blog posts and social media channels.
View all posts by Sophie McDonald