Isabella Twaddle and Scotland's Women Plumbers
Guest Blog, History | Written by: Guest | Tuesday 7 March 2023
Have you heard the one about women plumbers? Probably not, because women have historically been under-represented in the trades which help to build, repair, and maintain property in Scotland.
This continues today, with women making up only around 6% of the UK's builders, plumbers, and plasterers.
Imagine you're a Victorian woman living alone in a Scottish city, uneasy about letting a tradesman into your home to mend a leaky pipe under the sink.
Then, running your eye down the list of plumbers in Pigot's or Slater's directories, you suddenly realise there are one or two women advertising themselves in those trades whom you might employ instead.
Finding the women
Finding women in those directories however, or the stories of any tradeswomen, wasn't easy. Women's work generally received limited recognition, including the conventional 'women's work' of the period: domestic service, laundrywork, needlework, and a range of semi-skilled trades, such as straw-plaiting. Women also assisted in family-run businesses, and other 'off-the-record' roles.
Class played a part in the visibility of women's work. The people working in 'male' trades such as plumbing were from the skilled working classes, who are always less easy to find in written records than the landed gentry, so there is very little information about most of the women found in the directories.
However, diligent research has uncovered facts that challenge misconceptions and biases that we still hold today. Census returns, genealogical sites, and old newspapers yield a little more. However, trade directories have the benefit over census returns, in that a woman listed would have arranged (and paid) for the entry herself. Hence, we can know that this is the trade 'identity' that she saw herself in.
Running my own eyes down the tiny print of those old trade directories, I found women in quite a variety of construction and metal trades in the 19th century.
Women plumbers in Scotland
Women often became known as plumbers in their own right when their husbands died, presumably because there were no adult sons to take over the business. But even so, replacing their husbands would only have been possible if they had absorbed a lot of technical knowledge, perhaps from assisting around the workshop: "plumbers by marriage", as it were.
Plumbing and gasfitting required similar metal-working skills (usually lead and copper, respectively) and the two trades were often combined, just as they are today. There were lots of women gasfitters who did at least some plumbing, and you can explore some of those names in the list below. But there were also a further 16 in the same period who were just gasfitters.
Some women gasfitters and plumbers between 1837 and 1898 in Scotland

| Date | Name | Job title | Location |
| --- | --- | --- | --- |
| 1837 | Mrs John Clark (née Jane Jardine). c.1776- 19 April 1847 | Plumber and tinplate worker | Dumfries |
| 1848-51 | Mrs Matthew Anderson | Ironmonger, gasfitter, and plumber | Gorbals, Glasgow |
| 1849-50 | Mrs Robert Hart (née Janet Oliphant) | Plumber | Glasgow |
| 1860 | Mrs Jessie Ford | Plumber | Coldstream, Berwickshire |
| 1860 | Mrs Adam Adamson | Plumber and gasfitter | Edinburgh |
| 1860-69 | Mrs James Pearson (née Elizabeth McKenzie) | Plumber | Edinburgh |
| 1861 | Janet Lamont | Plumber and gasfitter | Glasgow |
| 1867 | Mrs Ann Ewart | Plumber and gasfitter | Edinburgh |
| 1867 | Mrs Walter Smith (née Marion Lind or Mill) | Plumber and gasfitter | Edinburgh |
| 1867 | Margaret Steel | Plumber | Fife |
| 1869 | Mrs Alexander Downie | Gasfitter and plumber | Glasgow |
| 1877-1880 | Mrs Andrew Bell (née Helen Livingston) | Plumber and gasfitter | Glasgow |
| 1877-1880 | Mrs William Kirkwood | Gasfitter and plumber | Glasgow |
| 1883 – 96 | Mrs William Twaddle (née Isabella Geddes) | Proprietor of plumbing firm | Glasgow |
| 1898 | Mrs William Neil | Plumber | Glasgow |
Some of these women only lasted for a short period in the work, but others carried on for several years.
Elizabeth Pearson
Mrs James Pearson (née Elizabeth McKenzie) ran her business for nine years, until she died. Her business had been at 85 South Back of Canongate and the family lived at 4 St Patrick's Square, Edinburgh. Very unusually for a widow taking over a business, Elizabeth was considered sufficiently capable that the trade allowed her to take an apprentice, and she advertised for one in The Scotsman on Tuesday 17 February 1863.
On her death in 1869, she still considered herself to be a plumber and amongst her possessions were the 'stock in trade, shopfittings and tools' from her workshop and three shares in the Leslie Water Company. She left everything to her only surviving child – her daughter, Mrs Elizabeth Callam (née Pearson) who had been living with her. I wonder if the daughter carried the business on!
Isabella Twaddle
The woman we know the most about is Mrs Isabella Twaddle. She was from a higher level in the plumbing business, being the proprietor of a major plumbing contracting business started by her husband's father, Hugh Twaddle. Isabella ran Hugh Twaddle & Sons, from 1883-90, following her husband William's death and until her sons were old enough to take up the reins. There was hostility from the trade, but Isabella was nevertheless able to retain top tradesmen and take on apprentices.
Her son William seems to have been quite a feminist for those times, perhaps the influence of seeing his mother's strength. He was an active member of the Scottish Council of Women's Trades for many years and wrote about housing design. Together with Margaret H. Irwin, he wrote Industrial Housing from the Housewife's Point of View: Some Notes on Twentieth Century Housing in 1918. The firm went on to become a major plumbing company in the 20th century and undertook plumbing for many major developments locally and nationally.
Find out more about Isabella Twaddle in the book Hugh Twaddle & Sons.
Finding tradeswomen today
Anyone trying to find the histories of women doing such work in, say, the late-20th or early 21st centuries, is going to have a hard time finding such women at all.
Despite decades of campaigning by Women And Manual Trades and efforts by some public sector employers and further education colleges, women remain more under-represented in the construction trades than in other engineering and STEM-related skilled crafts. In 2015, women made up only 0.5% of manual occupations in construction, and around 2% of Modern Apprenticeships in construction in 2021.
It seems ironic that, if you were inclined to support women doing such work, it could actually be harder to find one today than it might have been in Victorian Scotland. Then, trades directories listed everyone by name, so spotting the rare women was actually pretty easy. Nowadays, the names of many building trades firms or even sole-traders do not mention the proprietors' names in directories, so picking out a potential contractor on the basis of gender is more difficult.
Women's achievements in trades haven't been historically recorded and celebrated, and it's taken a lot of research to find them, but there is more work to be done to understand their contribution, and ensure the contribution of tradeswomen today is understood by future historians.
About the author
Dr Nina Baker is an independent researcher with a PhD in concrete durability. A former materials lecturer, Nina is currently a Deacon of the Incorporation of Hammermen of Glasgow for 2022-2023. Today, Nina specialises in the history of women in engineering and promotes STEM careers for girls. She was appointed an OBE in the 2023 New Year's Honours' list, for services to the history of women in engineering.
Do you know the histories of women from Scotland's past in construction, engineering, and other skilled trades? Get in touch!
You can also explore our online exhibition, The Women of Scotland, including some of Scotland's STEM pioneers, on the HES website.
About the author: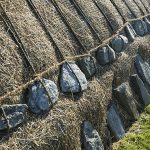 Guest
From time to time we have guest posts from partners, visitors and friends of the Engine Shed.
View all posts by Guest