Traditional Materials: How We're Growing Paint
Materials | Written by: Roger Curtis | Thursday 4 October 2018
What have traditional paint and flax got in common? Find out in this blog by Technical Research Manager, Roger Curtis.
In an exciting project with the Highland Folk Museum, we're growing paint from flax seed – reviving an old traditional which has long since died out.
What are traditional paints?
Before industrialisation and the mass production of building materials, most things were made or finished close to where they would be used. We think of the paint we use on our buildings mainly as a thick goo that comes in a brightly coloured tin made in a factory somewhere with a complex mix of chemicals and colours.
In the past making paint was, like many things, a craft or hand process done in small quantities using a range of mainly natural materials or ingredients. The process was relatively simple, and was able to give a range of paint types and colours that were used for painting wood and metals inside and out.
What are they made of?
Older paints for wood are simple. They consist of a binder, usually the linseed oil, and a pigment, normally a mineral powder, to provide the colour.
The linseed oil paint is applied to a clean wood surface, often in three layers, with a period of drying between coats. Sometimes the oil was heated; this boiling process shortened the drying or curing time for the oil.
Linseed oil paint was also used on iron and metal work. It was often applied to metal objects still hot from the forge. In the past some pigments for white shades were derived from lead; these are no longer used today.
Where does linseed oil come from?
Linseed oil is obtained by pressing the seeds from a flax plant. This plant was grown a lot in Scotland up until the mid-19th century mainly to produce the coarse fibres used in the making of linen cloth.
Nearly every community was involved in flax production. Before cotton was available for cloth it was a cheaper source for clothing material than wool, which only became more common with the dominance of sheep farming in the 19th century. The seeds of the flax plant were a by-product of this important industry. The oil obtained from the seeds had many uses, but its part in paint was probably the most common.
Is anyone still doing this?
The tradition of flax growing and local cloth making has entirely died out, but the knowledge survives in written and oral tradition, especially in Gaelic areas!
But the Highland Folk Museum is reviving this tradition and its associated activities by planting a field of flax. This fast-growing plant will be harvested in autumn 2018. The fibres will be used for weaving linen and the seeds used for linseed oil.
Can I still get linseed oil paint?
Yes! In Scandinavian countries the durability and sustainability of this natural paint has made it still popular today. It is imported to the UK and used by traditional and eco-builders keen to minimise dependency on oil based products.
Several historic buildings have recently been painted with traditional linseed paint. Recently several small firms in Britain have started to make linseed oil paint.
What will you do with the linseed oil from the flax field?
Alongside the Highland Folk Museum, we'll extract oil from the flax seeds and with company in Glasgow make up a batch of traditional paint. This paint will be used on a trial paint project in one of our workshops. If that goes well we will use it on some of our buildings too so watch this space!
What's so good about traditional paint?
Linseed oil works very well on wood as it is absorbed in to the fibres of the timber. This gives a very good bond with the timber. It is also quite flexible.
This means it can accommodate the small changes or movement in the wood due to temperature or water content. A well prepared window painted with traditional paint will last over 5 years without any work being needed!
Find out more about traditional paint!
Are you interested in traditional paint, its characteristics and its history? Maybe you own or care for a traditional property and want to know how to take care of it? Have a look at our building advice pages on traditional paint.
About the author: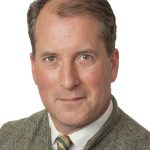 Roger Curtis
Roger works as the Technical Research Manager in the Conservation Directorate of Historic Environment Scotland. His role involves leading the Technical Research Team on a range of projects that research and demonstrate good practice with traditional materials and structures.
View all posts by Roger Curtis