The past and future of Scotland's traditional shopfronts
Behind the Scenes, History, Materials | Written by: Jennifer Farquharson | Friday 1 June 2018
Shopfronts shape how we see the built environment around us, and how we remember it as we grow. As part of our Talking Shops exhibition, we were eager to tap into these memories!
We developed an interactive panel where visitors can scribble down their own memories – and people are keen to share. Look out for our board and tell us your stories when you visit.
My own memories recall Border's Bookshop in Glasgow. On a Saturday afternoon it became the gathering place for alternative culture in the city. It was such a sight. Tourists would take photographs of crowds gathered there week in and week out. Sadly it was a phenomena that died out when the store closed.
The future of shopfronts
It's not all about the past, though. The future of shopfronts is important. This was something we stressed from the beginning of the project. We didn't want the exhibition to be a look back through rose-tinted nostalgia that dreamt of returning to those good ol' shops we used to see.
Shopfronts, and how they've changed over time, both reflect and encourage social and economic growth. Shops have evolved from their humble domestic origins. From small kiosks in the cities, we now see mammoth department stores like Jenners in Edinburgh. These are busy, thriving, commercial hubs that are part of the character of Scotland's cities.
Today, Townscape Heritage Initiatives (THIs) and Conservation Area Regeneration Schemes (CARS) are breathing new life into Scotland's high streets.
A personal business
Personal futures and successes are tied into traditional shopfronts as well. Ross Hastie has built his own, very successful business in traditional signwriting:
"The kind of, the quick cheap work is catered for by the vinyl market. So effectively, I think it's kind of pushed the traditional signwriters up a bit."
Peter McGhee at Dee's on Trongate (est. 1953) fully believes that, without their custom-made shopfront, installed in 1963, Dee's may very well not have been in business for the 65 years it's currently enjoyed to date:
"It's fibreglass and it was produced just for us, so nobody else'll have this type of sign, and we won't get rid of it, ever."
A sign of the times
Traditional signage has been my favourite element of our Talking Shops exhibition. The designers did a great job incorporating it into the design, and you're welcomed to the exhibition with some wonderful hand-painted signage. However, nothing beats the 3D signage loaned to us from the Stirling Smith Art Gallery and Museum.
At King Street, Stirling, in the 1920's you would have seen this signage above a hatters, because the industry used to use beaver pelts to make the felt for top hats. Gilded and with lovely scalloped details in the tail, I feel that the golden beaver is the star of this particular exhibition. We have fondly named her Justine Beaver!
Explore Scotland's traditional shops at our free exhibition!
You can visit the exciting, free 'Talking Shops' exhibition at the Engine Shed until Friday 22 June 2018.
Entry is free and the exhibition is open Monday – Saturday, 10am – 4pm.
About the author: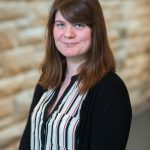 Jennifer Farquharson
Jennifer Farquharson is Content Officer at the Engine Shed. Jen creates engaging content about our sustainable conservation centre.
View all posts by Jennifer Farquharson