Supporting Scotland's Industrial Heritage
Guest Blog, Industrial Heritage, Maintenance | Written by: Miles Oglethorpe | Thursday 18 May 2017
We're now into the fifth month of the Year of History, Heritage and Archaeology, being drawn into the world of Industrial Heritage.  Already, some of our key industrial Properties in Care have joined the European Route of Industrial Heritage (ERIH). Stanley Mills is flying the flag as a new 'Anchor Point' for Scotland, joining New Lanark, Verdant Works in Dundee, and Lady Victoria Colliery (The National Mining Museum Scotland) in Midlothian.
So these are exciting times for those of us with industrial tendencies.  There's a huge amount of industrial heritage out there, and millions of people with deep roots in Scotland's industrial past. You only have to dip briefly into the world of, for example, railway heritage to get a sense of the interest there still is in steam power, and the number of people there are whose lives have been irreversibly corrupted by early exposure to Thomas the Tank Engine.
An issue with ageing
Recently, I was lucky enough to attend the annual gathering of the Scottish Railway Preservation Society (SRPS) in Bo'ness.  Those of you who haven't visited the SRPS mothership, the Museum of Scottish Railways in Bo'ness, should take a trip there. Put aside at least a couple of hours to explore. The range of its collections is extraordinary, reflecting the global reach of one of Scotland's most important industries.
However, one aspect of the Museum that makes it particularly special is the large number of volunteers there. Many of them give their time and expertise to help keep locomotives and rolling stock operational, as well as bringing some vehicles and engines back to life in ambitious restoration projects.
As might be expected, this extraordinary group of volunteers tend to be older men. This is a widespread problem affecting industrial heritage sites all over Scotland and the UK.  Putting it bluntly, the people the sector depends on for its practical knowledge, skills and expertise is ageing, and not enough younger people are replacing them.
The practical consequences of this are that it's already becoming difficult to maintain, restore and run the historic machinery and equipment at industrial heritage sites. This situation is likely to get much worse if no action is taken. To carry on maintaining, restoring and running the historic machinery and equipment at industrial heritage sites, the unique skills these extraordinary volunteers have must be passed on. If they aren't, there's a very real possibility that a great deal of our industrial past could be lost.
The intangible aspect of industrial heritage
In recent years, those involved in heritage will have seen the rising prominence of the idea of "intangible heritage" (cultural practices, skills and knowledge) especially in the context of endangered cultures and languages.  From a Scottish perspective, it makes sense to include intangible industrial heritage in this context. However, without the technical knowledge and understanding needed to operate and maintain steam engines, mill machinery, and machine tools, the value of the tangible ("real" or perceptible) heritage it's associated with will decline. Industrial heritage could be unique, in that its tangible and intangible heritage are so closely intertwined.  They can't meaningfully survive without each other.
This leads nicely into the Engine Shed project, whose core purpose is to maintain and nurture technical conservation skills – another branch of our intangible heritage. This has a real overlap into the world of industrial heritage. Historic Environment Scotland already supports millwrighting, which has been essential to maintaining the watermills we care for.
In the longer term, the Engine Shed project could include a broader range of technical skills relating to historic engineering and the needs of industrial buildings. Many of them weren't built with longevity in mind, and have long outlived their life-expectancy.  There is, therefore, a great future for our industrial past provided that both its tangible and the intangible parts are properly supported. The Engine Shed has the potential to play an important role in this process.
Find out more about how we're maintaining traditional skills for the future at the Engine Shed website.
About the author: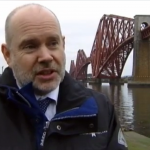 Miles Oglethorpe
Miles Oglethorpe is Head of Industrial Heritage at Historic Environment Scotland, and has been involved with the Forth Bridge since just prior to its centenary in 1990. Miles is currently President of TICCIH, the International Committee for the Conservation of the Industrial Heritage.
View all posts by Miles Oglethorpe