Thatched Buildings: Past, Present and Future
Conservation, Materials, News | Written by: Sophie McDonald | Thursday 13 April 2017
Thatched buildings used to be common throughout Scotland, with families and communities coming together to create and maintain their distinctive roofs. However, in the past century their numbers have been steadily declining.
An ancient craft…
Thatching is one of our oldest known building skills. It's been around since prehistoric times, with skills being passed down the generations until very recently. Especially in the Highlands and Islands, thatching would have been an activity that brought families and communities together as they worked to repair and maintain their homes.
Thatched roofs have a number of advantages. People living in thatched buildings say that they're well-insulated; warm in the winter, cool and well-ventilated in the summer. Thatching is an environmentally-friendly way of covering and insulating roofs. The materials used tend to be locally-grown plants (like oats, heather and rushes), which can then be recycled as fertiliser or compost.
At some coastal sites marram grass, which grows on sand dunes, was used for thatching. Because of this it was valuable, and protected from grazing animals. Now that the grass isn't needed to repair roofs, these places are at risk from erosion caused by grazing.  Recycled material has also traditionally been used to create thatched roofs. In the Western Isles in particular, pieces of driftwood, old rope, second hand bricks and even pieces of unwanted farming equipment have all been re-used as part of thatched roofs.
…facing modern issues
However, thatched buildings are vulnerable to the weather, especially the strong winds, rain and storms of the Highlands and Islands. Using a building, keeping it heated and ventilated, and carrying out regular maintenance can protect it. It's part of how we care for the Blackhouse at Arnol, on Lewis, where peat fires are lit every day. Thatched roofs can also be damaged by birds and rodents, and can be at risk from fire. Dry weather, and incorrectly-installed wood burning stoves can increase this risk. Because of this, thatched roofs were even banned in some Lowland towns and villages.
Thatched buildings need a lot of upkeep – we re-thatch the Blackhouse at Arnol every ten years, and "top-ups" to the thatch are needed every year. As the number of thatched buildings in Scotland has declined, so have the skills needed to maintain and repair them properly. Techniques tended to be passed down through the generations, meaning that there's been very little standardised training for thatchers in Scotland.
For questions about thatched buildings in Scotland, and how we're working to protect and conserve them, contact jessica.snow@hes.scot
About the author: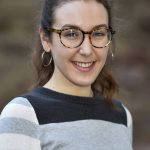 Sophie McDonald
Sophie worked as a Digital Content Officer with Historic Environment Scotland until 2017, spending her time looking after the Engine Shed's blog posts and social media channels.
View all posts by Sophie McDonald